It has been a roller coaster ride for trade regulation in the U.S. tire industry over the last eight years. With Chinese tariffs renewed in 2015 and manufacturers pivoting production towards other Asian countries in order to continue to import tires into the U.S., will trade protection policies increase under Trump and would Goodyear be ready?
Tire Manufacturing Industry Familiar with Protectionist Policies
Long before Trump began tweeting and running a campaign centered on nationalism, manufacturers of tires had their hands full juggling Chinese tariffs on passenger and light truck ("PLT") vehicle tires. In 2009, Obama advocated for a tariff of 35% on Chinese manufactured tires coming into the United States. [1] Over this period, the output of U.S. tires remained the same with few jobs added domestically as nearly all Chinese imports lost were picked up by neighboring southeast Asia countries. [2]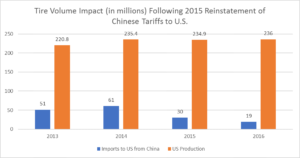 Source: Modern Tire Dealer's 2016 Facts Report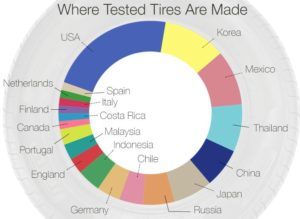 From HBS Digital Initiative
Source: Consumer reports 2016 Study

Source: Pyrolassist July 2016 article [2]
Why Tire Manufacturers Should Take Notice
Some point to this as why Trump's protectionist policies would have little benefit. [3] Nevertheless, rhetoric around NAFTA being the "worst deal ever" and exiting Trans-Pacific Trade Partner talks has the tire manufacturing industry focused again on anti-dumping and protectionist policies after what has already been a rollercoaster ride around trade over the last eight years. [4] [5] One U.S.-based manufacturer sits at the center of all of this, Goodyear. Approximately 1/3 of Goodyear's tire units are manufactured in the United States, with ~151k units daily, or 54mm annually (~26% of U.S. production capacity) of capacity. [6] However, when planning a new Americas facility in 2014, it turned away from two potential U.S. towns and instead opted to build a facility in Mexico. [7] [8] If it could have foreseen the election results of 2016, would Goodyear have reconsidered this decision?
Moreover, as rubber, oil and steel are key inputs in tires, Goodyear and those with other domestic plants must be cognizant of the impact that protectionist trade policies in other industries have on their ability to manufacture tires price effectively in the United States. [9]
What have Goodyear and Tire Manufacturers Done to Combat These Issues
Since 2000, 10 U.S.-based tire manufacturing facilities have shutdown, primarily due to union issues. Goodyear made up 3 of these facilities. The last plant opened by Goodyear in the U.S.? 1990. However, U.S. capacity (not production) has risen by nearly 5% in 2016, as Bridgestone, Kumho, Hankook and others have added or expanded facilities. There have been three additional plants announced for opening over the next 3 years in the United States by tire manufacturers who have seen this trend coming. [6]
Manufacturers have also been vocal around the pitfalls of forcing U.S. manufacturers to use U.S. steel and forego purchasing the raw material from China. This summer, the CEO of the U.S. Tire Manufacturers Association went to bat for the steel trade on behalf of Goodyear and others, noting the competitive disadvantage that U.S. tire manufacturers would be left with if forced to purchase expensive U.S. steel that fails to meet volume needs and quality standards. [9]
Goodyear has also set itself up for long-term success by placing its production closer to its demand – whether by country or region. For example, Goodyear broke ground on a facility in the Chinese district of Pulandian in November 2016 with the intent to support its growth in the China PLT market. [10]
What else could be done?
Goodyear has opportunities in the medium-term to de-risk its exposure to protectionist policies in the tire industry by:
Lobbying with the U.S. government to ensure tariffs that would adversely impact the tire manufacturer are not passed. This would include raw material inputs such as steel noted above and also on certain countries themselves (i.e. Mexico, Thailand) where it may important certain Tier 3 and Tier 4 tires.
Building its next manufacturing facility in the United States to 1) facilitate goodwill with the Trump administration in lobby efforts; and 2) de-risk the impact of tariffs emerging in its countries that it imports from today. The U.S. tire market operates approximately at capacity and there is reason to believe replacement tire demand could increase in the Americas as 1) fuel prices remain low; 2) replacement cycle on tires used on SUVs and light truck vehicles that spiked in OEM demand coming out of the financial crisis will begin to come through. The recent plans opened by others have been without unions, which could make this cost effective. [6]
Despite these changes, it remains to be seen if Goodyear could ever have a response for the competitive intensity that is likely to increase in the U.S. market over the next several years. Hankook's $800mm plant in Tennessee, creating 1,000 manufacturing jobs, that will initially ship 5mm units is a great example of this. [11] It is consistent with a Trump mission of adding manufacturing jobs, but was it in the cards for these jobs to come from a Korean competitor? It remains to be seen if Goodyear's move to turn-down its hometown, Akron, [8] and opt for a Mexico-based facility will have long-term repercussions as nationalistic policies potentially grow more prevalent under the Trump administration.
(799 words)
Sources     
[1]          Andrews, Edmund L. "U.S. Adds Tariffs on Chinese Tires." The New York Times. September 11, 2009. Accessed November 15, 2017. http://www.nytimes.com/2009/09/12/business/global/12tires.html.
[2]          King-theme.com. "U.S.'s elevated import duties on passenger and light truck tires from China last year was pronounced." Pyrolassist – Pyrolysis Consultants. July 13, 2016. Accessed November 15, 2017. https://pyrolassist.com/u-s-s-elevated-import-duties-on-passenger-and-light-truck-tires-from-china-last-year-was-pronounced/.
[3]          Lee, Don. "Limited success of Chinese tire tariffs shows why Donald Trump's trade prescription may not work." Los Angeles Times. July 24, 2016. Accessed November 15, 2017. http://www.latimes.com/business/la-fi-tariffs-trade-analysis-20160724-snap-story.html.
[4]          Severns, M., Nussbaum, M., Grunwald, M., Markovich, J., Lowry, R., & Velasco, E. (2016, September 26). Trump pins NAFTA, 'worst trade deal ever,' on Clinton. Retrieved November 15, 2017, from https://www.politico.com/story/2016/09/trump-clinton-come-out-swinging-over-nafta-228712
[5]          Rich, A. S. (2017, November 11). Trans-Pacific Trade Partners Are Moving On, Without the U.S. Retrieved November 15, 2017, from https://www.nytimes.com/2017/11/11/business/trump-tpp-trade.html
[6]          Ulrich, Bob. "2017 Facts Overview." Modern Tire Dealer. January 2017. Accessed November 15, 2017. http://www.moderntiredealer.com/uploads/stats/mtd-51st-facts-1.pdf
[7]          Plain Dealer business staff. "Goodyear Tire building $500 million high-tech tire factory … somewhere." Cleveland.com. May 29, 2014. Accessed November 15, 2017. http://www.cleveland.com/business/index.ssf/2014/05/goodyear_tire_building_500_mil.html
[8]          Harper, John. "Goodyear to build $500 million tire plant in Mexico." Cleveland.com. April 24, 2015. Accessed November 15, 2017. http://www.cleveland.com/akron/index.ssf/2015/04/goodyear_to_open_500_million_p.html
[9]          Ulrich, Bob. "U.S. Tire Manufacturers Association Asks President Trump to Rethink Steel Tariff." Modern Tire Dealer. July 8, 2017. Accessed November 15, 2017. http://www.moderntiredealer.com/news/724396/u-s-tire-manufacturers-association-asks-president-trump-to-rethink-steel-tariff.
[10]        Shingler, Dan. Crain's Cleveland Business. November 02, 2016. Accessed November 15, 2017. http://www.crainscleveland.com/article/20161102/NEWS/161109942/goodyear-makes-nearly-500-million-investment-in-china.
[11]        Area Development News Desk. "South Korea-Based Hankook Tire Opens Manufacturing Plant in Clarksville, Tennessee." Area Development. October 18, 2017. Accessed November 15, 2017. http://www.areadevelopment.com/newsItems/10-18-2017/hankook-tire-manufacturing-facility-clarksville-tennessee.shtml.