CVS, Not Just an Ordinary Pharmacy

CVS is changing the way pharmacies have acted through its digital innovation lab and advancement in telemedicine.
Since 1967, CVS has had a simple strategy for medication dispensing. It was a straightforward three-step plan: 1) the provider writes a prescription for a patient 2) the patient goes to a pharmacy 3) the pharmacy dispenses (sells) the medication to the patient at the pharmacy. This relatively simple operating model has sustained CVS for the past 6 decades and has led to an expansion to 9,600 retail pharmacies, 1,100 walk-in health care clinics, and 2015 revenue of $153B. [1]
However, as there is a general push towards digital transformation, CVS has been forced to push the bounds of a traditional pharmacy. In 2015, CVS opened a digital innovation lab in Boston, Massachusetts geared towards "developing cutting-edge digital services and personalized capabilities that offer an accessible and integrated personal pharmacy and health experience." [2] By dedicating a team of over 100 employees, CVS is demonstrating a clear desire to separate itself from being labeled as just another brick and mortar retail pharmacy.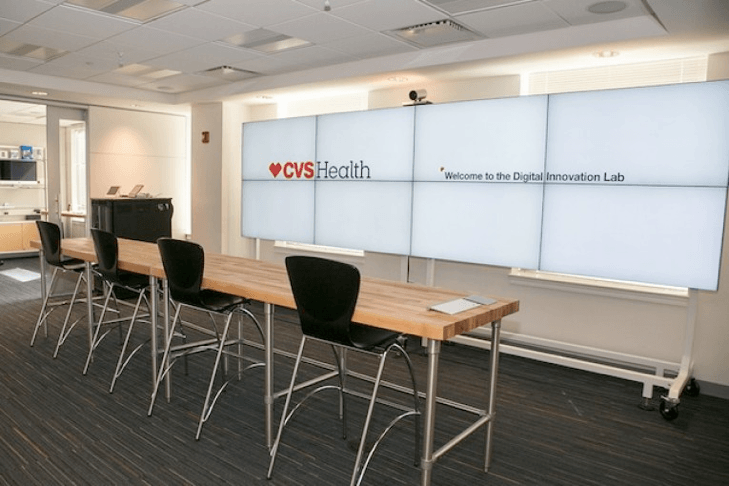 With over one billion prescriptions filled annually, CVS has a unique insight into the health needs of its customers. The Digital Innovation Lab, in its steady state, will be able to quickly analyze large numbers of prescription data and use geolocation tools to target patients in the store with medication reminders and health alerts, overall maximizing a patient's ability to manage his/her health through the CVS app. [3] As CVS' Chief Digital officer, Brian Tilzer, discussed "we're using digital to change health outcomes of millions of Americans." [4] This includes the development of over 12 tools that will be able to connect with a patient's smartphone and transmit pertinent data to a provider. [5]
CVS also views the digital revolution as a way to improve access to healthcare for its patients, increase medication adherence, and reduce overall healthcare costs. Beyond the Digital Innovation Lab, CVS is determined to integrate technology as part of the pharmacy experience. A few programs include: [6]
"Scan paper Script": sending a picture of the prescription the pharmacy to start the "fill" process. This, along, with the increasing use of electronic medical records/ePrescribing will allow patients to minimize their number of trips to the pharmacy
MedRemind: Will integrate with the CVS smartphone app to help patients to remember to take medications at the appropriate time. This has the potential to be integrated with additional devices like the Apple Watch
Insurance Card Scan: This will allow patients to send new insurance information to the pharmacy and will save the patient valuable time
CVS will also continue to innovate its digital landscape through the advancement of a growing trend: telemedicine. The push for telemedicine has the potential to change the entire healthcare market and is forecasted to impact over 1.3 Million patients by 2017. [7] Due to a retail pharmacy's large reach and number of stores, providers will rely on the pharmacy as a conduit to the patient in telemedicine. [8] CVS continues to understand this trend as seen through their additional partnerships with other telemedicine vendors, including: Teladoc, Doctor on Demand, and Cleveland Clinic.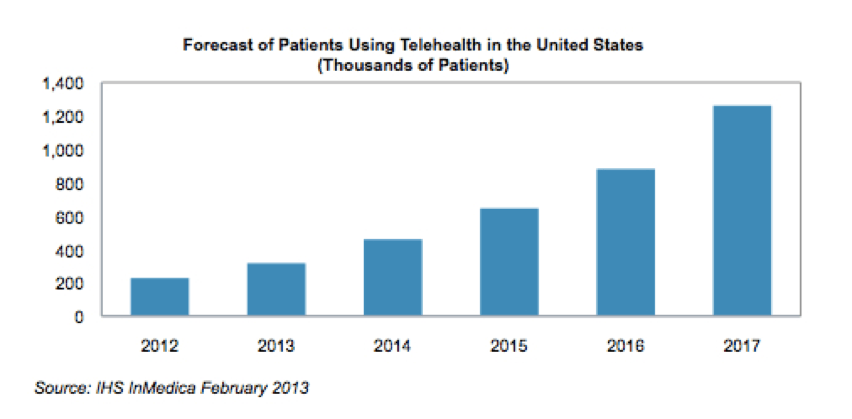 The Cleveland Clinic partnership will enable customers in Ohio to use the mobile telehealth technology, developed by American Well, to interact with physicians. Having greater access to patient's health information and being able to digitally visit patients and electronically send prescriptions will be mutually beneficial for Cleveland Clinic and CVS. With CVS' broad retail reach and Cleveland Clinic's best in class healthcare, partnerships in the telemedicine space will help CVS expand its reach to patients who may not have previously sought medical attention. [9]
While CVS has made progress in the telemedicine space, they are not alone, as there is a general movement by pharmacies to incorporate improved technologies. For example, Walgreens (a top competitor of CVS) recently announced the expansion into telemedicine for their walk-in clinics. In over 30 states (more to come in the future), patients can skip the waiting room entirely and talk/video conference a doctor directly, who can discuss treatment options and even send prescriptions to the pharmacy. [10]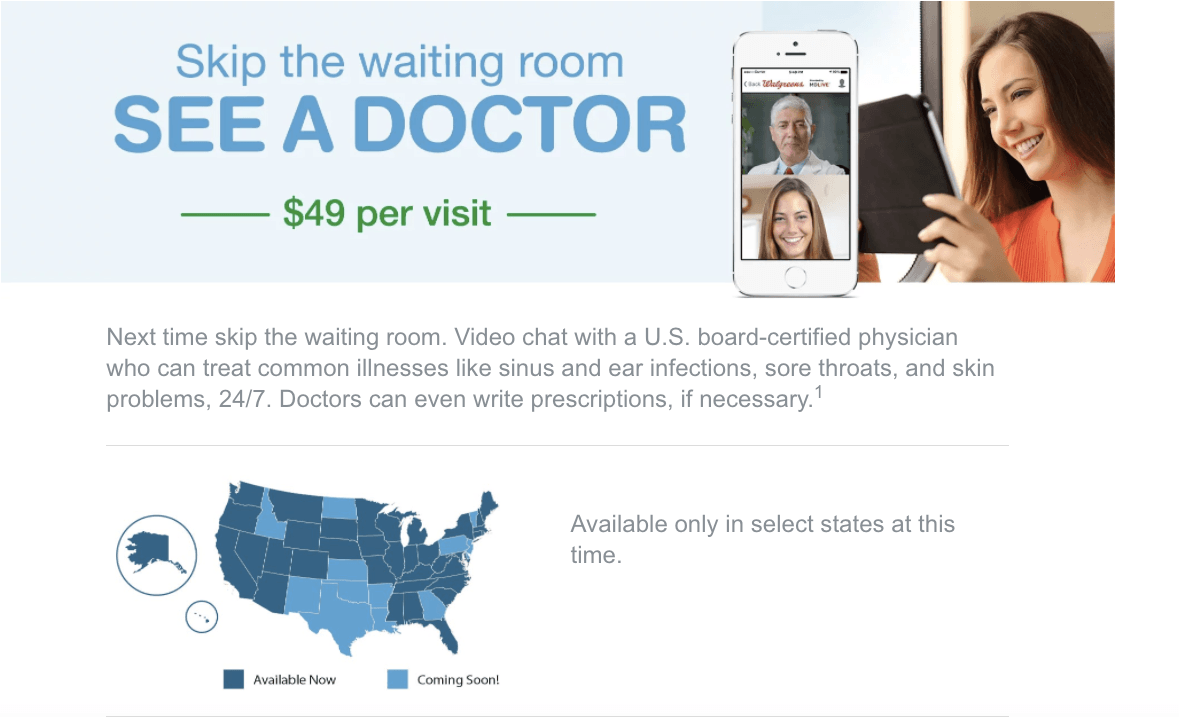 Ultimately, CVS is looking to expand its connection with its customers and stay relevant in an evolving pharmacy environment. These endeavors will positively impact patients through improved adherence and decreased healthcare costs and will help CVS' bottom line by offering minimal cost programs to improve prescription revenues. Soon the brick-and-mortar pharmacy model will be a thing of the past, as it is replaced with total technology integration.
(Word Count: 742)
Sources:
[1] CVS, 2015 10K; http://hsprod.investis.com/shared/v2/irwizard/sec_item_new.jsp?epic=cvs_caremark&ipage=10722259&DSEQ=&SEQ=&SQDESC=
[2] https://cvshealth.com/newsroom/press-releases/cvs-health-opens-digital-innovation-lab-boston
[3] Ibid.
[4] https://www.fastcompany.com/3047646/not-just-a-pharmacy-cvs-unveils-its-digital-innovation-lab%232
[5] https://www.fastcompany.com/3047646/not-just-a-pharmacy-cvs-unveils-its-digital-innovation-lab%232
[6] https://cvshealth.com/newsroom/press-releases/cvs-health-introduces-new-digital-pharmacy-tools-help-make-medication
[7] http://www.mobihealthnews.com/20322/inmedica-predicts-six-times-as-many-us-telehealth-patients-by-2017
[8] http://www.wsj.com/articles/how-telemedicine-is-transforming-health-care-1466993402
[9] http://www.healthcareitnews.com/news/cleveland-clinic-and-cvs-strike-deal-deploy-american-well-telemedicine-platform
[10] https://www.walgreens.com/topic/pharmacy/virtualdoctor.jsp
Picture Sources:
http://www.theshelbyreport.com/2015/06/22/cvs-health-opens-digital-innovation-lab-in-boston/
http://www.mobihealthnews.com/20322/inmedica-predicts-six-times-as-many-us-telehealth-patients-by-2017
https://www.walgreens.com/topic/pharmacy/virtualdoctor.jsp