Ally Bank: Taking Retail Banking Online

Ally Bank – delivering value through high interest rates and superior customer experience, without brick-and-mortar branches.
Ally Bank spun off from GM in 2008 with the goal of differentiating through an exceptional customer experience and high interest rates. In order to offer sustained high interest rates, Ally made a core choice that reverberated throughout its operating model: they have no physical branches or ATMs. Visiting the branch is a vital customer touchpoint in the operations of a typical bank, so Ally has leaned on strong user experience and customer service in online and phone.
Business Strategy: To offer much higher interest rate opportunities than competition. As a new brand looking to acquire customers, Ally has appealed to customers looking to make their money work harder.

Operating Strategy: To offer these high interest rates in the long term, Ally needed to cut costs. While choices like headquartering in Charlotte saved on employee and infrastructure costs relative to headquartering in a financial mecca like NY, Ally achieved major savings by operating as a direct bank with no physical presence. This saves significantly on rent, headcount, and associated overhead costs – savings they can pass on to the customer; however there are two common customer interactions potentially hurt by this.
First, without Ally ATM's customers would face high fees for using another bank's ATM. Therefore, Ally refunds all ATM surcharges. Second, the branch is traditionally the singular direct touchpoint between the bank and consumer, and the primary avenue to deliver quality service. To eliminate the need for an in-person interaction, Ally has focused on its secondary business strategy: a strong digital experience paired with accessible phone support.
Business Strategy: To deliver best in class experience and service (without a physical presence).
Operating Strategy: Ally has focused on the ways a current or prospective customer interacts with the brand: the online user experience and financial products.
User Experience: For Ally, typically the first point of contact with the customer is the website. With 40% of all log-ins coming via mobile – which is growing quickly – Ally is mobile-first, and has built an uncluttered and easy to navigate environment.
To develop and enhance the app and webpages, Ally employs an in-house design and engineering team that practices an IDEO-style design thinking process. They build out customer archetypes and craft a user experience around them. They gather prospective and current customers for focus groups and ask them to interact with prototypes; the results of these sessions feed an "iterative waterfall" where products are reshaped in quick succession to best fit the customer.
The result of these efforts is a digital environment built on hidden menus and navigation allowing the customer to get to the information or action they need quickly, with little friction, and usually completely independently. For example, to reduce access barriers Ally removed one of two log-in steps without compromising security. Throughout all changes, the experience remains consistent across platforms.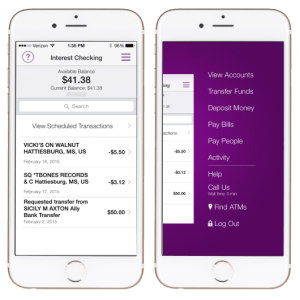 While the user interface reduces the need to speak with a human as much as possible, Ally recognizes at times people still want to talk to a live person. Thus, phone numbers are posted with absolute transparency alongside up-to-date phone wait times, usually 3 minutes or less.
Financial Products: Ally has focused on simplifying its financial products (while still meeting customer demands) and providing customer education, thus making products easy to understand without a face-to-face conversation at a branch.
To this end, Ally removes the majority of fees and is incredibly transparent about those that remain. For example, there are no monthly maintenance fees or minimum deposit requirements in checking accounts; instead of penalizing customers with low balances, they instead reward high balances with even higher interest rates.
As another example, to address a customer archetype dubbed "super-savers," Ally created "Sleeping Money Alerts" and educational content on CDs. Sleeping Money Alerts proactively inform customers when they could be earning a better return on savings, based on their personalized balance and spending habits. The CD education makes first-time-investors comfortable, and supports Ally's business strategy of offering an easy-to-understand product set. As the only bank with a top 10 Google result explaining how CDs work, it has the added benefit of building the brand through outbound marketing.
In many ways, Ally's overall strategy is to simplify all aspects of the relationship between Ally and the consumer. The webpage is easy to use, the products are explained clearly and succinctly, and there are rarely fees. By doing this, customers don't miss the brick-and-mortar branches, and are rewarded with higher interest rates. This has paid off for Ally by surpassing 1 million retail deposit customers and $52B in retail deposits in 2015, with 22% annual growth in deposits since 2009, and customer satisfaction and retention persistently above 90%.
---
Sources: