O-Dinsight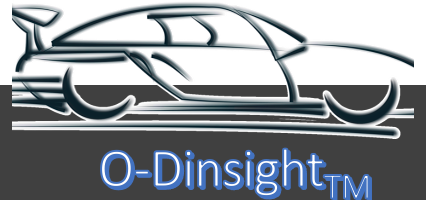 O-Dinsight – A data platform for all your transportation needs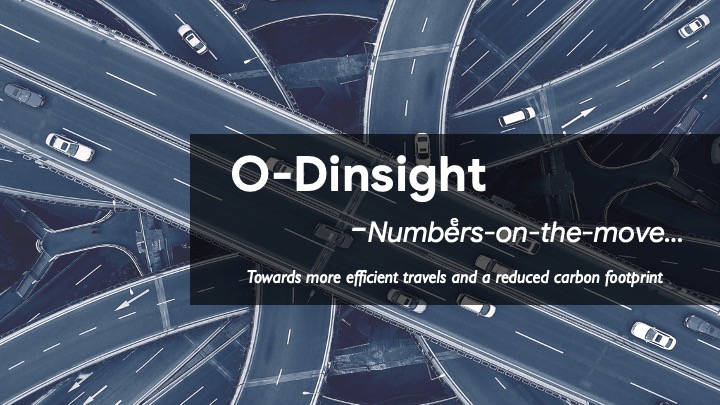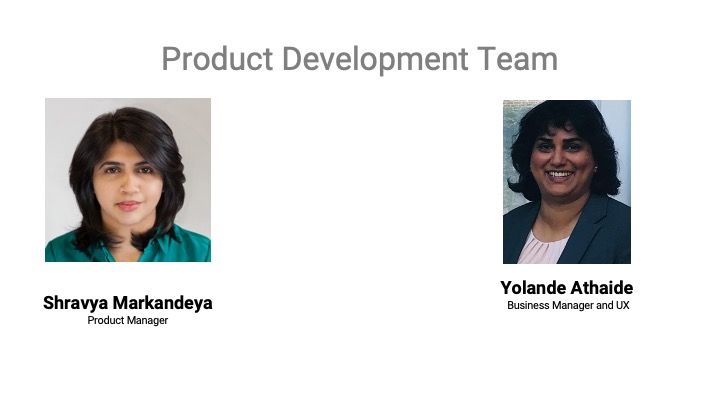 The Team
Shravya Marakandeya (Cohort 3) – Product Manager
Shravya Markandeya is a transportation engineer with over a decade of experience leading and managing traffic engineering and transportation planning projects in the northeast region. She has worked on numerous regionally significant projects including the $8 billion LaGuardia redevelopment program and has served as a Quality Assurance/Quality Control Engineer as a consultant to various municipalities in New York State. She co-authored a paper that was presented at the ITS World Congress 2016 held in Melbourne, Australia highlighting the privacy vulnerabilities of a V2V proposal and suggested alternative mechanisms to tackle privacy using modern cryptographic techniques. She is passionate about bringing modern data analytics tools to solve emerging challenges in the transportation sector.
Yolande Athaide (Cohort 5) – Business Manger/User Experience
Yolande Athaide is an entrepreneur with more than 20 years of experience in designing solutions to enhance productivity and business processes. She manages a consulting firm that develops and delivers analytic models for operations and commodities risk management to clients in the energy and utilities sector. Her experience includes collaborating with user and engineering teams to translate client needs into viable solutions. Her past projects involved successfully implementing changes to financial, accounting, and technology systems to address observed inefficiencies. She has a desire to apply apply current data analytic methodologies in organizations focused on the ethical use of AI to improve the world.
Both team members will be graduating from HBAP on September 13, 2020.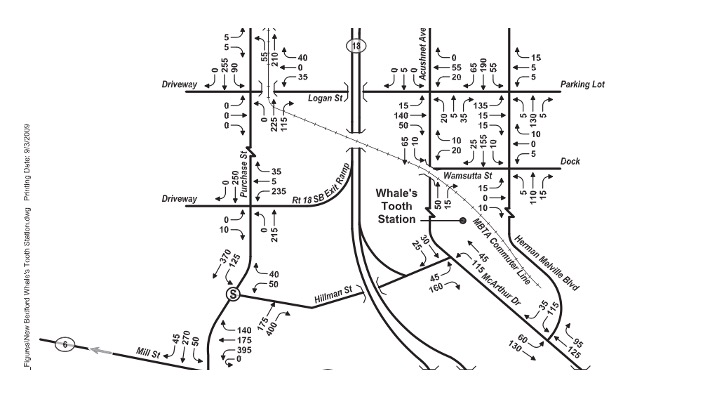 Engineers need mobility data for all kinds of infrastructure projects across the North America and the world including bridge construction, airport redevelopments, corridor improvements, and community enhancements. Here are a few an examples of queries a transportation agency/consultant would be interested in for projects:
What is the Annual Average Daily Traffic (AADT) of Route 18?
What is the percentage of heavy vehicles on Logan Street?
What is the volume of vehicles on Rt 18 Exit SB Ramp on a Wednesday between 5 pm and 6pm?
Here is how data is collected today:
Manually: Companies have people physically collecting data from the location over the course of a few days
Sensors: Installing underground sensors, overhead cameras at points of interest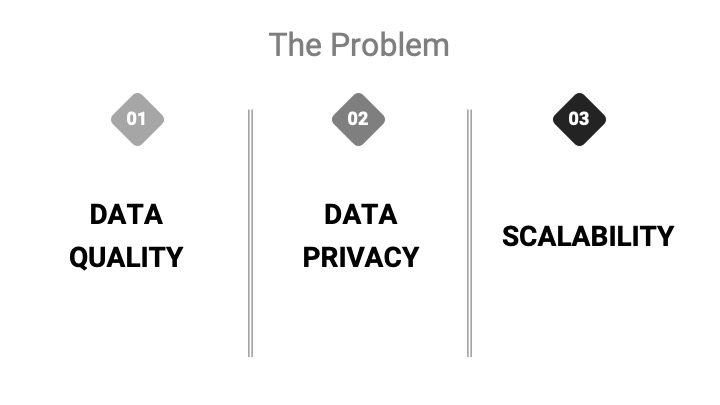 What's not working now?
Data Quality – Current methods only provide coarse-grained transportation data collection often with insufficient features
Data Privacy – Sensors collect sensitive data that are not required (eg, images) that are sold and often find their way into the wrong hands. Even simply storing the data makes it vulnerable to data breaches.
Scalability – Current approach requires some form of manual intervention, eg boots on the ground or devices installed in location. Its expensive and not scalable.
These problems have been exacerbated with the current COVID-19 pandemic and the need for a scalable solution is critical.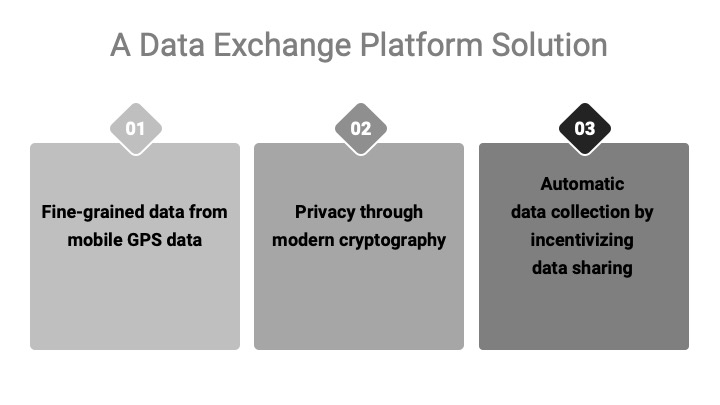 Our Data Exchange Platform:
1.Mobile GPS data – All of the fine-grained information required for engineers can be obtained by analyzing mobile GPS data. Where's your home? Where's your work? Which supermarket do you visit frequently. How often do you travel to neighboring states? Do you use public transportation for your daily commute? But, this contains sensitive data too.
2.Apply modern cryptographic techniques – Secure multiparty computation allows for a group of people to securely collaborate and analyze their individual data while providing maximal privacy. In particular, the computation reveals the result of analyses but the individual data is never exposed.
3.Automated data collection – Mobile GPS data can be automatically collected via a mobile app that can process and synthesize active and passive data for sharing. Today, we give our data **for free** to companies like Amazon, Google, Facebook who use/abuse and provide incomparable value back to the customers (eg, free email / search / social network). Our approach is to promote data sharing through commission.
Our starting point is providing transportation data query engine for infrastructure projects.  But the platform lends itself to numerous applications:
Smart cities
Transportation management centers
Supply-chain logistics
This platform makes transportation data accessible and available to everyone.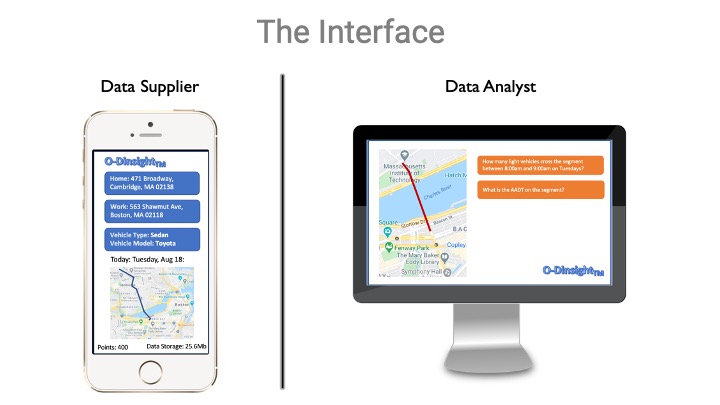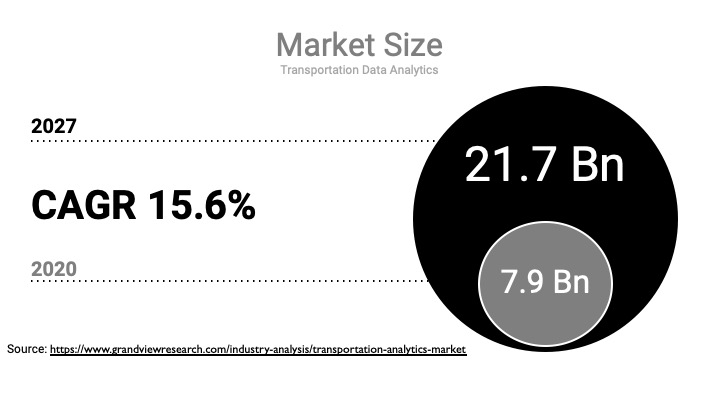 In May 2020, Grandview Research provided an estimate of the market size of the global transportation analytics space.
Compound Annual Growth Rate (CAGR) between 2020 and 2027 is expected to be 15.6%.
This is the most conservative of the reports on the transportation analytics space.
O-Dinsight intends to enter this sizable market. While we have not yet been able to obtain data on the North American or United States market size due to the high cost of research report licenses, even a 1% share would amount to $79 million in 2020.
We believe that this is reasonably achievable because we can leverage our network of contacts and clients in this space.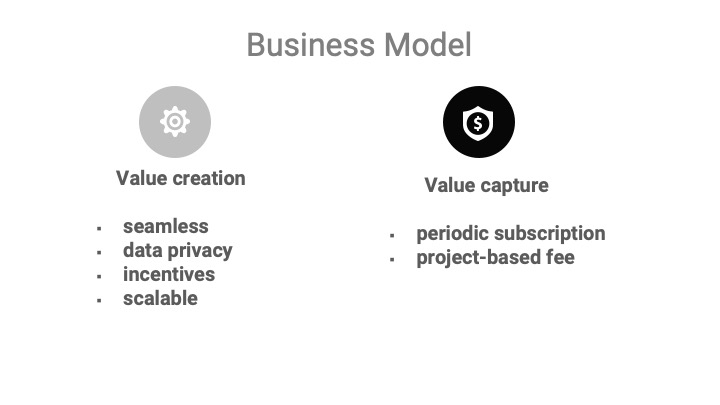 To create value for our data contributors, we will:
provide sign-on and frequency rewards in the form of choices among:

free or discounted use of the collected data,
gas cards to redeem on their travels,
or other gift cards

Be transparent about our intent to protect their privacy, extracting only the information that will assist our transportation data needs
Take their express permission to use their data and obtain their assurance that they are 18 or older
For data users, value creation will be through provision of a more detailed level of data through one, seamless platform compared to what they currently have access to.
While we intend to introduce our app only in the New York City area, it will be scalable to other cities and countries as we gain acceptance and momentum.
The potential benefit to the environment from reduced carbon emissions as traffic jams reduce from improved logistics management by cities and increased use of public transportation by concerned citizens will also be a source of value for all our platform users.
Value capture for our company will be via periodic subscriptions for frequent users of the data or by project-based fee where that makes better sense.
As the popularity of our platform grows, future sources of income could include advertising dollars from entities interested in reaching our user base.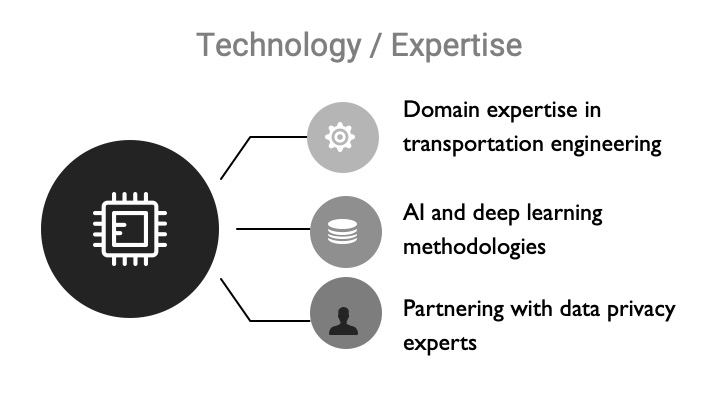 1.Transportation engineering – A working knowledge of what data the transportation industry is looking for today and will need tomorrow.
2.Data analytics – Applying AI and deep learning methodologies to combine multidimensional data that have traditionally been analyzed in silos.
3.Modern cryptographic tools – Partner with Ligero Inc. that is developing the privacy engine for such a platform.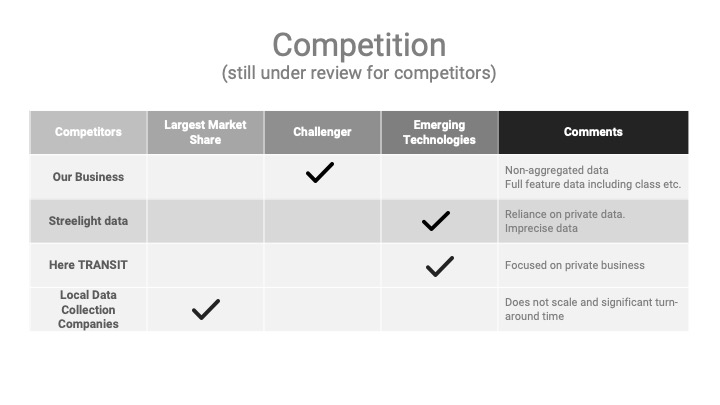 There is emerging tech in this space that are trying to address the problems but falls short in one or more ways:
Streetlight data – A startup that extrapolates mobility data via cell phone pings.

Is on the rise as it has taken advantage of the demand with current COVID-19 pandemic where manual data collection is not possible.
Issue 1: Relies on sensitive information. With more regulations such as GDPR rising, severe restrictions can hamper quality of data collected.
Issue 2: Not scalable as collecting the information requires negotiating with cell phone providers for each region.

Here TRANSIT

Issue 1: Relies on implanting physical trackers and access to non-private cell phone data.
Issue 2: Focused on tracking private assets.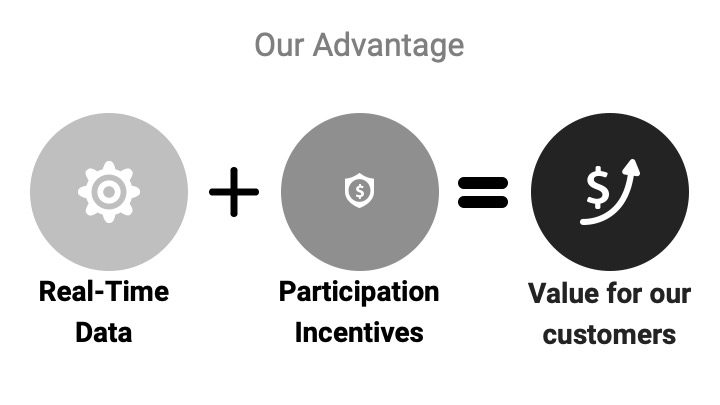 Our Advantage:
Availability of limitless active and passive data
Privacy assurance through cryptography
Data availability through incentives
Scalability via automated data collection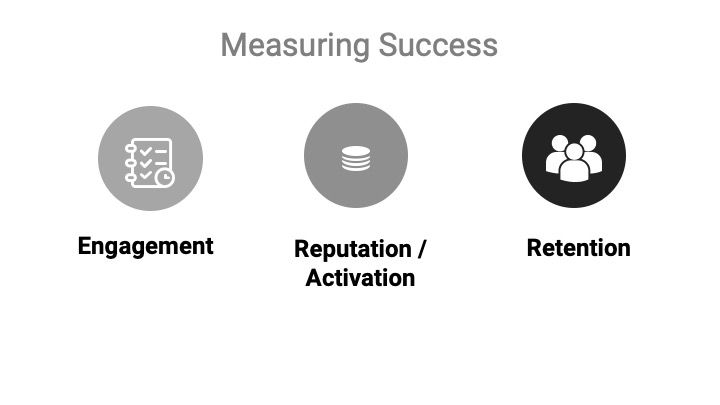 There are three key areas where we will want to examine metrics: engagement, reputation or activation, and retention.
Engagement: this will give us an idea of a single user's interaction with our app.
Number of users downloading our app
Ratio of Daily Active Users to Monthly Active Users
For data users, we would track engagement by the frequency with which they request data and the number of projects they use it for.
Reputation/Activation: This metric helps us know how well we are perceived in the user community.
Whether they refer our app and services to others
Conduct a periodic one-question survey of users to obtain a score regarding their satisfaction level
Growth in revenue from data users and growth in number of participants – contributors and data users – will help us examine our performance in this area.
Retention: To examine whether platform users stay with us for the long term
customer lifetime value
churn rates
If we lose data contributors or data requesters, we will have short customer lifetime values and high churn rates and will need to reevaluate our app and strategy.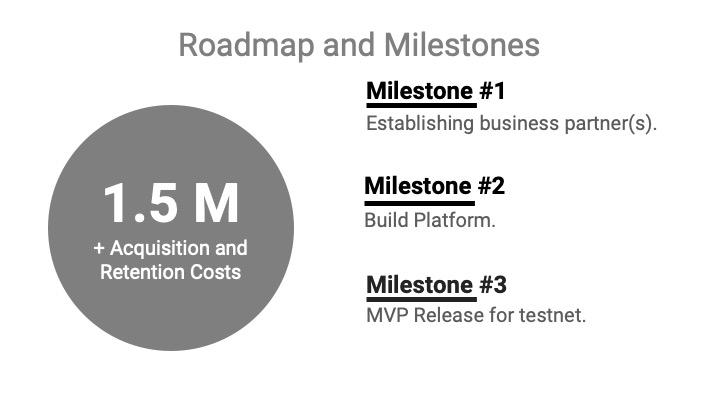 We anticipate that we will need to raise $1.5 million to begin operations, which will be applied as follows:
Two engineers to help us build and maintain the platform ($100k per engineer per year)
Costs of partnering with the data privacy management company (currently determining cost for this)
Operations costs
Funds to provide incentives for data contributors to sign on (acquisition costs) and for high volume contributors (retention costs).
Overall, we expect to be able to release a complete version in approximately one year.
Establishing partners: The first 3-4 months, we will be talking with prospective business partners – those who will be our data privacy experts, legal experts, and entities that are interested in providing funding to us in exchange for free use of our collected data.
This timeframe also includes identifying the software engineers to build the platform.
Building the platform: once the software engineers have been selected and funding for at least their salaries obtained, we estimate about 6-8 months to build the app. This can go on concurrently with any business partner searches still ongoing.
A minimum viable product (MVP) should be ready for test release about 8-10 months following the end of the building timeframe.