Saudi Aramco's transformational journey from bytes to barrels

In 2016, Saudi Arabia's Crown Prince Mohammed ibn Salman announced his intent to IPO 5% of the country's national oil company (Saudi Aramco) by 2018. Saudi Aramco is considered to be one of the world's most valuable companies with over 260 billion bbl. of proven oil reserves, and an estimated valuation of between $2-$3 trillion. Considering this valuation, Saudi Aramco's $100 billion IPO will become the largest offering in history.
The Crown Prince's announcement came at the backdrop of a more than 50% decline in oil prices in 2014. For years the company and country had enjoyed oil prices of well over $100, which offered Saudi Aramco the luxury to spend heavily on increasing oil field production capacities as well as in capital-intensive mega-projects. Faced with a highly anticipated public offering and a steep decline in oil prices, Saudi Aramco and other major oil & gas producers have been taking drastic measures to contain costs and reduce spending. With a bleak future of $50-$60 oil prices, Saudi Aramco is looking towards digital technologies to cut costs and increase operational and production efficiencies to ensure long-term sustainability.
Globalization enabled new production methods that provided the world with an abundance of cheap energy and helped fuel economic growth. Since then technological adoption in the oil and gas sector has been steady but relatively slow when compared to other industries. This is partly attributed to internal resistance to change as well as the volatile nature of the oil market. This typically calls for maximum production at oil booms with minimal interruption and aggressive cost-cutting in price slumps.
A McKinsey&Company report claimed that using digital technologies not only helps transform and create more value from existing operations but has the potential to reduce CAPEX by 20% and OPEX by 3-5%[i]. Moreover, if executives actively seek out and leverage available technologies to support their overall business and operational strategy, they may be able to deliver on $1 billion in productivity improvements or cost savings.
It has become apparent that in order to pursue growth opportunities oil & gas companies need to embark on a more digitalized transformation. The oil & gas industry, in particular, is well positioned to benefit from the visibility, clarity, and agility brought through new technologies. This is due to the fact that oil & gas operations span across multiple geographies, require heavy infrastructure and CAPEX investments, and require supportive supply chains.
This strength has also become a disadvantage for large oil & gas producers like Saudi Aramco. The rapid pace of innovation coupled with high capital investments and switching costs have discouraged digital and technological adoption. While we have always been taught that it is better to "fail early and fail fast", this may not be the case for a company like Saudi Aramco who would rather adopt a trial-and-error process to innovation and digital transformation. A report by the Deloitte Center for Energy Solutions stated "Consumers and IT-based firms know the early bird gets the worm, but oil and gas players would rather be the second mouse that gets the cheese. This is because it's costlier to be the first to adopt new oil and gas innovations."[ii]
In 2011, Saudi Aramco established its own corporate venture capital company– Saudi Aramco Energy Ventures (SAEV pronounced 'save') with the objective of actively investing in new technologies and providing an avenue through which to pilot promising innovations. SAEV has since then become one of the largest investors in energy start-ups (their investment strategy is outlined below). Many have argued that Saudi Aramco, like any oil producing major, is poorly structured to engage in the start-up space for the same reasons mentioned previously: long product development cycles and high time and capital investments required to develop and test new products[iii]. There has also been internal misalignment and resistance when piloting and adopting disruptive technologies.
To solve for cultural and internal resistance, companies like Saudi Aramco should consider different ways to benefit from cross-departmental pollination and ensure buy-in by involving key stakeholders early on in the process and throughout the pilot/testing stages.  Additionally, in an age of data abundance, Saudi Aramco needs to set up processes by which this data can be managed effectively in order to maximize the benefits of digitization.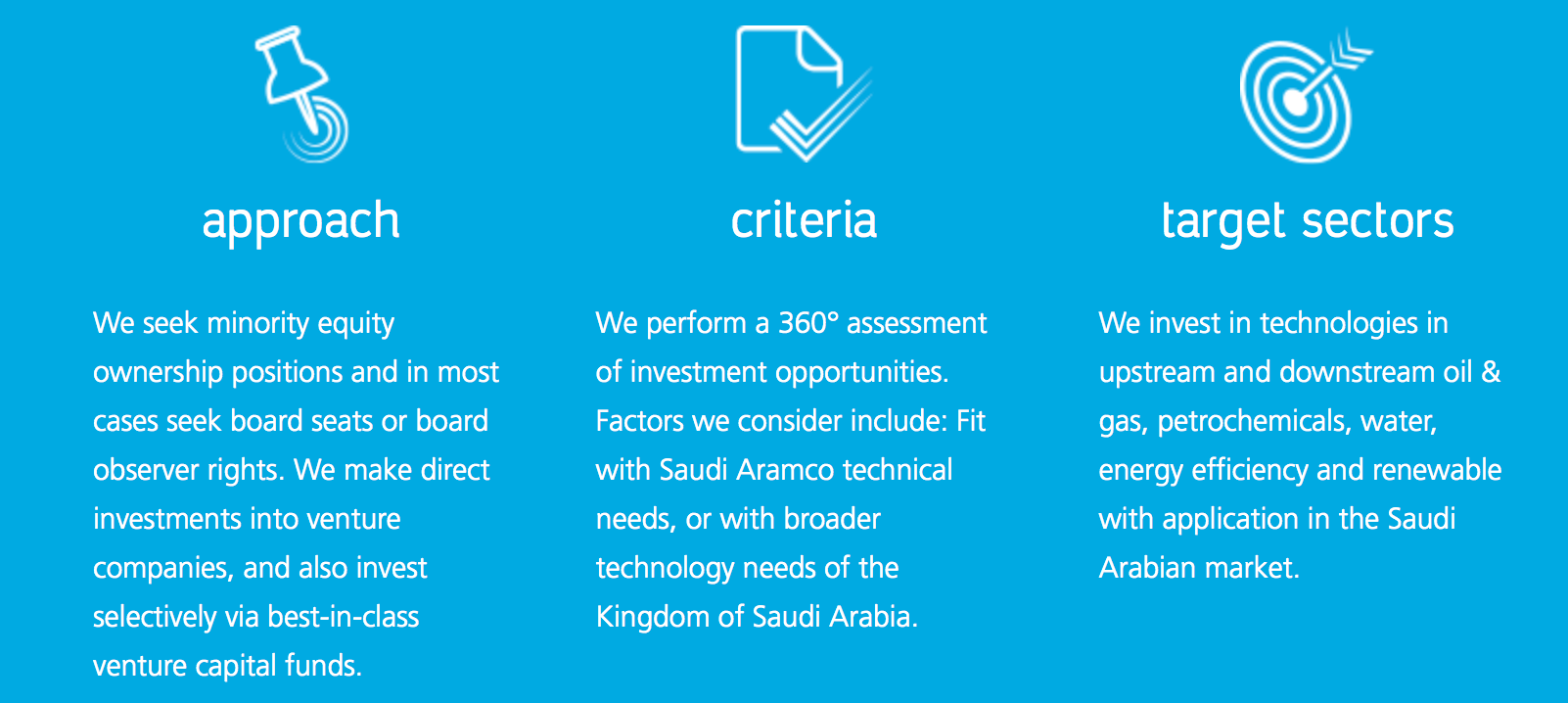 Source: Saudi Aramco Energy Ventures[iv]
Needless to say, there are many technologies that should be harnessed that will undoubtedly create significant value. Deloitte proposed a practical Digital Operations Transformation (DOT) model that should be adopted by Oil & Gas companies as they embark on their own digital transformation journey. While Saudi Aramco has been blessed with the financial resources to take on riskier investments, they may benefit from a more holistic and structured approach to transform the core of its operation. Below is Deloitte's DOT model as well as a near-term digital goal mapping for upstream operations. What is key here is to connect the digitalization strategy with the business/operations strategy.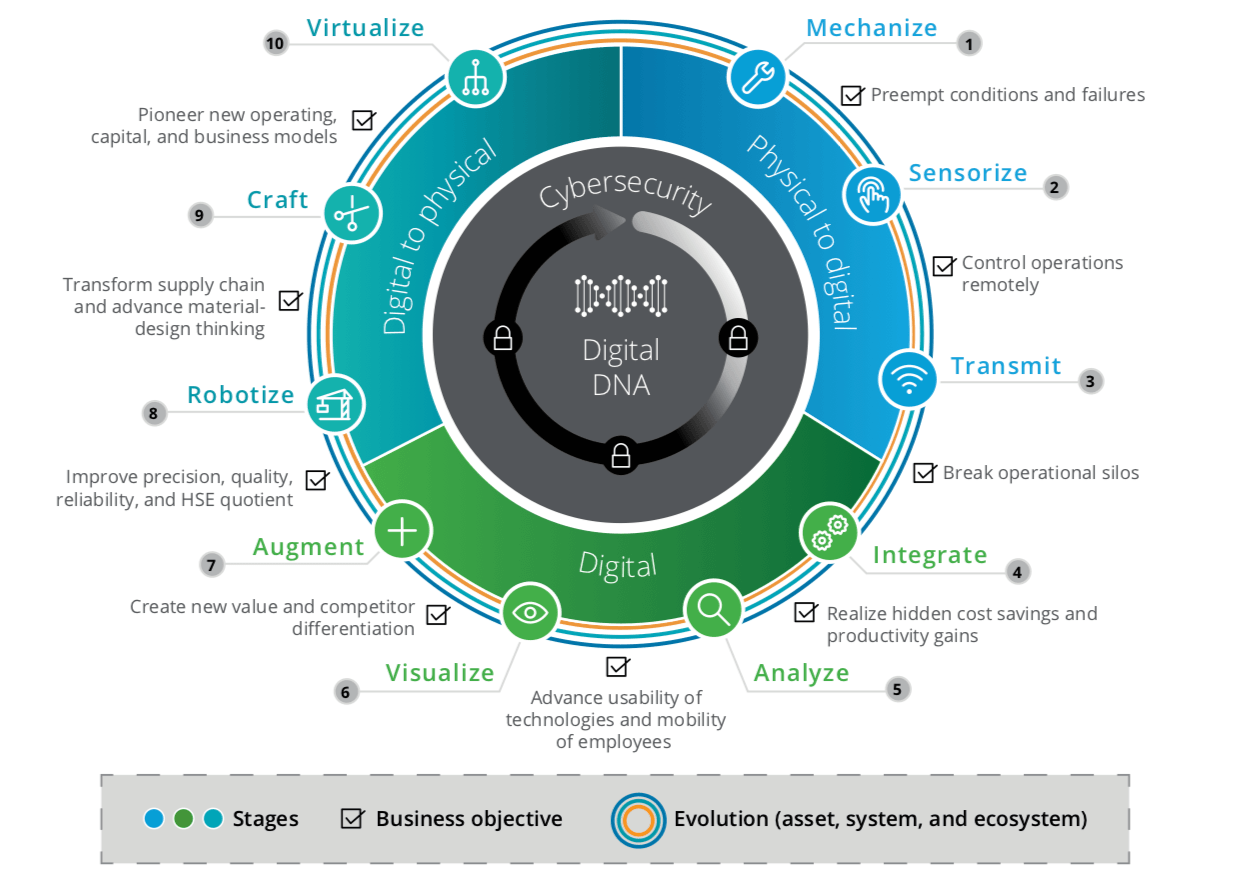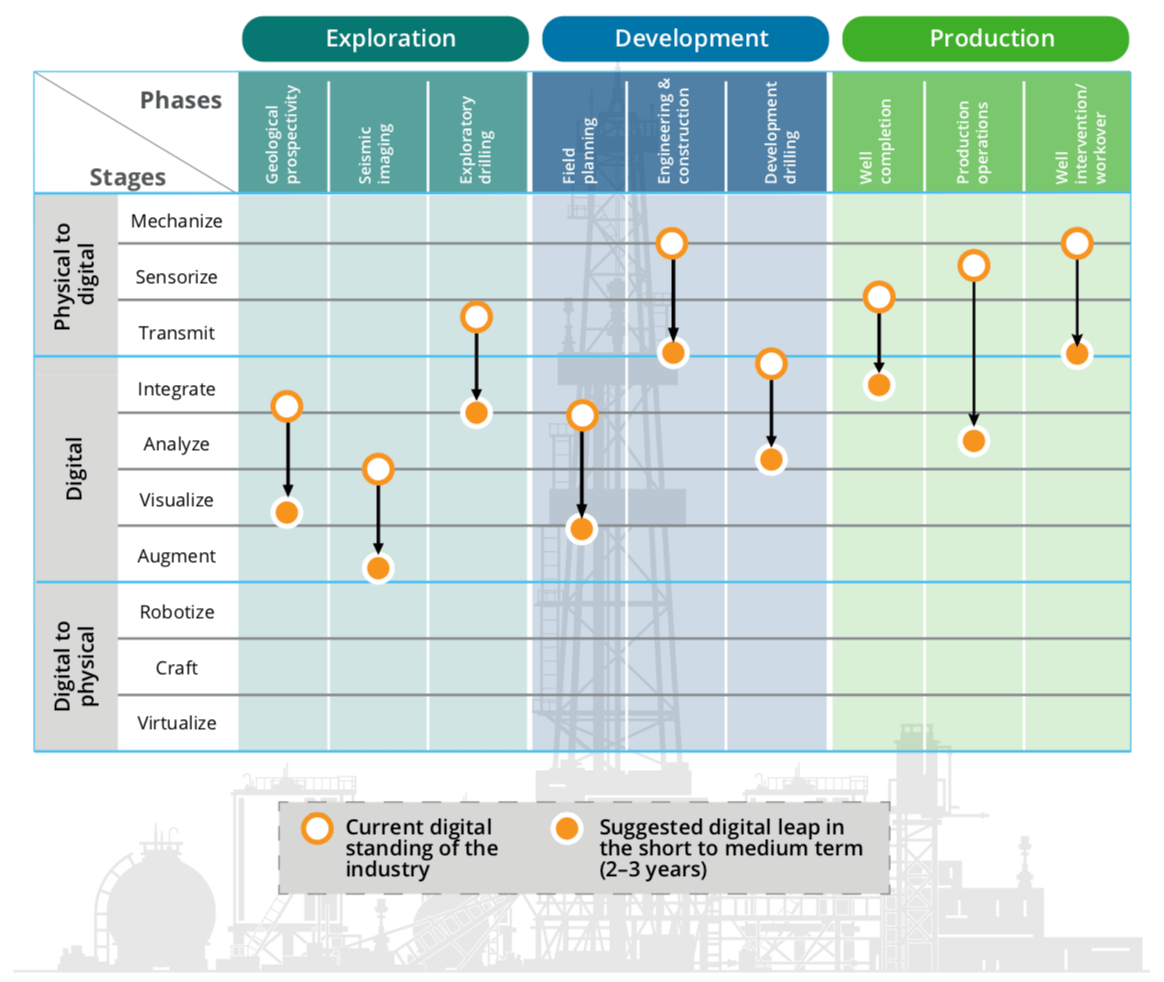 Source: Deloitte Analysis – Deloitte Insights[v]
There are many uses of advanced analytics in improving operation efficiency, especially in the preemptive and predictive maintenance pace which is estimated to decrease maintenance and downtime costs for Saudi Aramco. Integrated digital applications in upstream and downstream processes e.g. seismic imaging, can help enhance reservoir recovery rates and data is now being computed and normalized to identify cost saving opportunities with vendors. Moreover, Saudi Aramco is well positioned to increase its revenues by adopting a digitally-enabled marketing and distribution channels.
In addition to setting up a CVC and implementing a top-down approach to digital transformation, Saudi Aramco should leverage its internal Research & Development (R&D) center to attract talent, develop the latest technologies, and protect IP. This would also help mitigate long-development and piloting/testing cycles as both upstream and downstream departments can engage/communicate their pain-points and feel more invested in testing and piloting the technology i.e. reducing internal resistance and ensure stakeholder buy-in.
While Saudi Aramco could approach digital transformation organically, it may be more time and cost effective to engage in more partnerships that would help speed up the pace of transformation while ensuring effective knowledge transfer and collaboration for long-term sustainable growth. In June 2017, Saudi Aramco did just that! It signed a Memorandum of Understanding (MoU) with Emerson. According to David N. Farr, Emerson's chairman and the chief executive officer "[the collaboration] will aid in strengthening the digital transformation of Saudi Aramco". The engagement will explore ways through which Saudi Aramco could use Emerson's Plantweb™ digital ecosystem to ensure connectivity (IoT) between wireless and smart instrumentation technologies[vi].
Shortly after in July 2017, Saudi Aramco partnered up with SAP with the objective of running solutions on the SAP Cloud Hub in order to develop a new marketplace and solutions platforms for its buyers and suppliers. According to an Energy Digital report "Aramco will be able to run cloud-based business applications to optimize business processes and costs, and enhance customer and supplier relationships"[vii]. The overall engagement spans a 4-year period and is estimated to cost around $76 million.
Saudi Aramco is on the right path in pursuing effective and important digital transformation across its operations. As many companies exit the exploration and production space due to low oil prices, Saudi Aramco should capture this opportunity by using new technologies enabled through strategic and long-term partnerships to grow and integrate effective cost-saving solutions to its operations. Moreover, the company should ensure digital transformation continues to be at the forefront of the company's growth strategy.
As mentioned, it will be crucial to engage stakeholders in different departments i.e. upstream, downstream, and administration to ensure buy-in and minimize resistance to adoption. This could be done by setting up "transformation managers" similar to their existing "risk managers" who will be responsible for seeking out and actively pursuing new digital transformation investment in collaborating with SAEV and the R&D center as well as managing adoption and steady-state process improvement.
There is no doubt that Saudi Aramco's executives are willing and able to embark on this transformational journey into a digitalized world. In an interview with the New York Times, Saudi Aramco CEO Amin Nasser explained that the money raised through the IPO will help the company invest more in cutting-edge technology[viii]. The issue remains however in how effective the company and its employees will be in integrating this technology across the whole value chain in order to maximize both the value created and the value captured.
[i] https://www.mckinsey.com/industries/oil-and-gas/our-insights/the-next-frontier-for-digital-technologies-in-oil-and-gas
[ii] https://www2.deloitte.com/content/dam/Deloitte/global/Documents/Energy-and-Resources/gx-online-from-bytes-to-barrels.pdf
[iii] https://www.hbs.edu/faculty/Pages/item.aspx?num=50321
[v] https://www2.deloitte.com/content/dam/Deloitte/global/Documents/Energy-and-Resources/gx-online-from-bytes-to-barrels.pdf
[vi] https://www.emerson.com/en-gb/news/automation/1706-saudiaramco
[vii] https://www.energydigital.com/oil-gas/sap-partners-saudi-aramco-establish-cloud-based-digital-marketplace
[viii] https://www.nytimes.com/2017/10/27/business/energy-environment/saudi-aramco-oil.html