Crowdfunding by Betabrand or how an $88 "Poo Emoji Button-Up Shirt" raised 1298% of its funding goal

Betabrand is successfully harnessing the power of the crowd to get and vet apparel ideas. But will its engaged, niche crowdbase stand in the way of further growth?
Betabrand is an online 'crowdfunded clothing community' that aims to create and sell "conversation-worthy" clothing. The San Francisco-based company was founded by Chris Lindland, (a former tech entrepreneur with no prior retail experience) as Cordarounds in 2005, before it evolved into Betabrand in 2010.
How it works
Betabrand sources garment design ideas from the crowd and uses a crowdfunding approach to determine which designs are in highest demand. Unlike Kickstarter and similar crowdfunding sites, Betabrand owns the technical design, manufacturing, and distribution processes and keeps most of the profits, while the original idea creator gets a royalty fee. At each step of the process, the company has been able to successfully manage crowds to create and capture value resulting in over $6.9 million in revenue from crowdsourced and crowdfunded ideas.
Submit ideas: Betabrand's submission form only asks for a title and brief description of the idea, attaching a sketch or photo is optional. In-house designers vet ideas and design the technical specifications. In this way, Betabrand creates significant value for users who have an idea for a piece of apparel (usually something they wish was already in their wardrobe and that they believe other people will demand) by possibly taking care of the execution and making it available for purchase. Over 2000 ideas have been submitted by the crowd.
Users vote: Users vote for their favorite design ideas and Betabrand creates a design prototype for clothing ideas that reach a critical threshold. This extra step helps weed out unpopular ideas before investing money in prototyping, crowdfunding and producing apparel and thereby reduces the risk of obsolescence. About 25% of designs are eliminated at the voting stage.
Crowdfunding: Betabrand creates a prototype (often modeled by the original designer) that users can fund for a limited production run. At this stage, users can also comment with feedback, e.g. about color or hem length, that may be incorporated into the final design. To incentivize crowdfunding and reach production scale, Betabrand offers discounts for early funders, e.g. the first five funders get 30% off the product's price. In this way, the company shares the potential value of economies of scale with its consumers. They continue to engage users as their production cycle is now less than two months from idea to availability and by introducing new items each week.
Alongside this model of   value creation and capture, Betabrand encourages user engagement and grows the size of the 'crowd' via Model Citizen, a campaign in which customers upload pictures of themselves in Betabrand clothing in exchange for a 20% discount and being featured on the homepage. Furthermore, Betabrand has a fun, quirky brand persona and appeals to like-minded consumers with copy such as "The world's finest horizontal-corduroy pants. Quieter, more aerodynamic, and less likely to cause crotch combustion than common corduroy" to describe its popular cordaround pants.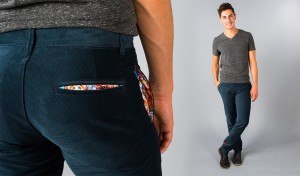 Results
Lindland and team have seen great success with their business model that gets and vets ideas using a crowd of engaged potential consumers. Betabrand has generated over $6.9 million in crowdfunding revenue (in addition to revenue from popular in-house designs) and they passed $10 million in overall sales last year. The company counts over 290,000 community collaborators and 298 successful crowdfunding projects to date. Consumer engagement is high with over 31,075 photos uploaded to its Model Citizen campaign. Investors have taken notice too and Betabrand raised an additional $15 million in October 2015, bringing its total outside investment to $30 million.
Challenges
While Betabrand's success with a new, crowd-driven business model is impressive, the limited size of its current target market poses a challenge to further growth. Betabrand currently attracts ideas from people who care more about the functional benefits of clothing than fashion (e.g. the women's Morning Mess jacket with specially-designed pockets to hold everyday essentials) or are looking for very quirky apparel (e.g. Betabrand's disco necktie) not available from mass retailers. The products are largely designed by and appeal to the tech crowd who want to make all aspects of their life, including their wardrobe, more efficient. Betabrand has sought to partner with other companies to grow their user base, but it is telling that the two most popular current collaborations are with 3M and Valve. Fashion retailers have typically dictated trends and have been slow to embrace the crowd, creating an opportunity for Betabrand to move beyond its current niche market. However, a successful growth strategy hinges on user engagement on both sides fo the platform, which may not be as strong in a more competitive, general retail market. Partnering with mainstream designers to grow a broader consumer base could be a first step towards Betabrand becoming Main Street's new favorite clothing brand. In the meantime, you can buy a poo emoji shirt here.