Pottery Barn–Inspire beautiful decorating for every room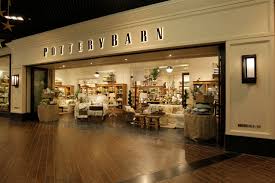 Pottery Barn offers unique products and free design services to "inspire beautiful decorating for every room".
Did you choose the company as an example of effectiveness or ineffectiveness? Why?
Pottery Barn is a home furnishings company that drives value for consumers by offering high quality, comfortable, and stylish products at reasonable prices. Pottery Barn deploys a highly trained workforce that aligns and supports their business goal to "inspire beautiful decorating for every room"1. Their ability to support an incredible customer experience with a valued product is clearly effective as evidenced by their high number of repeat customers, long history (established in 1949), and consistent store growth to a current level of 199 stores in the United States and abroad.3
Describe the company's business and operating models. What is interesting about them?
Business Model
Pottery Barn is a portfolio company of Williams-Sonoma, Inc. and targets the middle-class consumer situated between West Elm, Williams-Sonoma's economical furniture brand and Williams-Sonoma Home, their luxury furniture brand. The strategy is to offer classic furnishings that give the company lasting appeal blended with trendier items that generate excitement for new product lines. Over 95% of Pottery Barn home furnishings are created by in-house designers and sold through their in-store, catalogue, online, and over the phone channels.2 One of the most interesting aspects of the Pottery Barn business model is their offering of free design services to customers and very generous designer program where they offer significant discounts to independent interior designers who meet minimum purchase thresholds from the company. All Pottery Barn revenue comes from home furnishing sales.
Operating Model
The Pottery Barn operating model functions in two key segments: design and sales. The former focuses on creating product, while the latter focuses on creating a memorable customer experience and lasting loyalty.
People
As a result of these two key functions, Pottery Barn's human capital focuses on two key groups—designers and sales associates. The designers are encouraged to be influenced by their home lives, designing products they would use personally or gift to friends.4 Sales associates are hired for personality and cross-trained to provide design expertise to customers. Pottery Barn also deploys a highly flexible work force, of which only one-third are full-time, and a significant portion of whom are only employed for the holiday 'high-season'.3 This flexibility enables them to offer an engaged consumer experience commensurate with consumer demand.
Process
The design team at Pottery Barn is a completely separate division both in its organizational structure and in its location, three miles away from the Corporate offices. The team is vertically integrated and controls every part of the design process: the product design, production approval, sourcing, and manufacturing oversight.
In the store, sales associates welcome customers, and for interested customers, will work with them as interior designers to create their ideal home display. Sales associates are encouraged to create relationships with customers and generate maximum loyalty. Further, sales associates work closely with external, independent interior designers which augments the reach of Pottery Barn beyond only the individuals that walk into their stores or read their magazines.
Do the models align and support each other?  How?  What specific features of the operating model are designed to create and sustain competitive advantage?  What features of the business model leverage unique capabilities of its operating model?  What are the implications for performance?
The key to the alignment for Pottery Barn starts with the in-house designers who create a great product available exclusively through Pottery Barn stores. This exclusive offering is key to engaging consumers and when supported by Pottery Barn's free design services creates a high value offering. Consumers respond with intense lifetime loyalty, which directly translates into higher sales and a higher share of a customer's home furnishing purchases.
Resources: