Customers Help to Box International Paper into Sustainability
"[Sustainability] helps our customers when they try to tell their…story…it's not top of mind for a lot of investors" – CEO, Mark Sutton

"We take a renewable natural resource, which is wood fiber, we add value to it, and we make a product that, in the case of corrugated box, 90% of those are recycled…it helps our customers when they try to tell their sustainability story, that they've got sustainable farming or sustainable practices in getting their products grown and made, and then they serve it and get it to market in a sustainable package…it's not top of mind for a lot of investors" – CEO, Mark Sutton [1]
As a global leader in the industrial and consumer paper and packaging industry [2], International Paper faced mounting pressure to take a larger role in addressing environmental sustainability across its supply chain. While deforestation is most commonly associated with paper businesses due to reliance on wood as an input, paper and packaging manufacturing is a heavy industrial process with intensive energy needs, and has the potential to create significant air and water pollution. [3]
While International Paper's manufacturing operations are subject to "extensive" federal and state regulation, particularly related to air emissions standards [4], many environmental issues related to packaging are not subject to comprehensive regulatory review. Although energy consumption, water usage, and recycling promotion had been discussed by management throughout the 2000's, no plans were put in place to systematically improve the company's performance on these metrics.
As the influence of environmental groups on consumer purchasing behavior continued to grow, International Paper's [IP] customers faced increasing pressure to formally address sustainability, particular as many of IP's key products were highly visible as potential threats to the environment (e.g., industrial packaging like container board and consumer packaging like disposable food packaging and cups). [5] As customers continued to formalize sustainability targets for their own businesses and develop targets for their suppliers, IP's management launched its Vision 2020 sustainability plan in 2010. While the business was not bound to achieve its targets, IP pledged to publish an extensive report each year detailing progress towards its goals. [6]
Key initiatives in the Vision 2020 plan included [7]:
Responsible Forestry: International Paper owns or manages 335,000 acres of forestland in Brazil and has additional harvesting rights on government-owned forest land in Russia. The business has maintained sustainability standards in excess of regulated levels, and has become an advocate for increasing the certified fiber supply over the last decade. Third-party certification validates that fiber is sourced from areas using sustainable forestry processes (i.e., using sustainable replenishment planting, not adversely impacting local economies and ecosystems, etc.), and increasing demand for these products has contributed to improved practices throughout the upstream supply chain. International Paper has increased the amount of certified fiber purchased as a share of total third-party purchases from 26% to 33% since 2010.
Energy Consumption: International Paper targets improving its purchased fuel efficiency in terms of thermal units produced per ton of production volume, and has achieved 4.7% growth through 2010. Drivers of improvement include "investing $495 million in energy efficiency initiatives and fuel diversity."
Greenhouse Gas Emissions: The business has decreased (direct and indirect) greenhouse gasses produced by operations from 16.0 million metric tons to 13.5 million from 2010-2015 by investing to transform the carbon footprint of several existing mills and transitioning energy sources from oil and coal to natural gas (when possible) to minimize emissions.
Water Usage: IP has implemented rigorous wastewater treatment standards across mills with the goal of ensuring water quality in watersheds near all company mills.
Originally driven to take action in part by their customers, International Paper has successfully implemented a strategy to address key sustainability concerns across all of its stakeholders. As part of the launch of Vision 2020, IP has systematically approached mapping each stakeholder's needs to its actions to demonstrate the steps it has taken to go above and beyond minimum regulated behaviors. This initiative has required significant investment in research and development and meaningful increases in capital expenditures; and through careful communication, these efforts have helped to align sourcing and manufacturing processes with the key concerns of its customers and environmental advocacy groups. Over-time, the short-to-medium term needs of customers have aligned with shareholder needs for value protection and creation, while also pushing higher sustainability standards upstream into the paper and packing supply chain.
While the company has taken important steps to institutionalize its commitment to sustainability over the last decade, there is meaningful room for growth on existing initiatives, and industry observers have noted how additional issues related to sustainability and climate change may impact IP in the future (e.g., sensitivity to changes in weather patterns impacting production costs or input prices [8]). Addressing these issues will require continued proactive responses across the planning, sourcing, and manufacturing groups in addition to coordination across all company stakeholders.
(793 words)
Exhibit 1: Fiber Certification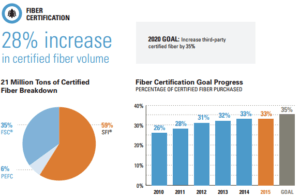 Exhibit 2: Mapping Issues and Actions Against Customer Stakeholder Issues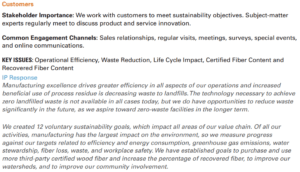 Citations
[1] Julie Segal, "International Paper CEO Mark Sutton Thinks inside the Box," February 14, 2014 http://www.institutionalinvestor.com/article/3547363/banking-and-capital-markets-corporations/international-paper-ceo-mark-sutton-thinks-inside-the-box.html#.WBv7RvorLmE, accessed November 2016
[2] International Paper Company Overview http://www.internationalpaper.com/docs/default-source/english/company/about-ip/company-overview/company-overview.pdf?sfvrsn=68, accessed November 2016
[3] Richard E. Smith, "The Environmental Sustainability of Paper". Graduate Studies Journal of Organizational Dynamics. Vol. 1(1) (2011)
[4] International Paper 2015 10-K http://s1.q4cdn.com/597881801/files/doc_financials/2015/IPA0007_04192016_10K-FINALONLINE_with-10K-Form.pdf, accessed November 2016
[5] International Paper 2015 Annual Report, accessed November 2016
[6] International Paper 2010 Sustainability Report, accessed November 2016
[7] International Paper 2015 Sustainability Report http://www.internationalpaper.com/docs/default-source/english/sustainability/2015-gri-report.pdf?sfvrsn=46, accessed November 2016
[8] Matthew J. Belvedere, "Storms cost International Paper $40-50 million," February 14, 2014 http://www.cnbc.com/2014/02/14/storms-cost-international-paper-40-50-million-ceo.html, accessed November 2016