Antofagasta Minerals – Let's change the mining industry

What are the mining companies doing and what else can they do to address climate change issues?
Metals improve quality of life, from lighting in homes to new equipment in hospitals. Metals are critical for the growth of countries, especially in the construction, power, manufacture, and automotive industries. Even today, when many new low-carbon technologies are arising for these industries, metals are getting more and more relevant. For instance, electric cars use twice the amount of copper than internal combustion vehicles and solar power uses as much as five times the amount of copper as a coal power plant for each megawatt of power capacity. As a result the metals mining industry, especially the copper industry, needs to be able to keep contributing the supply of copper for the future development of the world.
Chile is the biggest Copper producer in the world, with 34% of the global production and 30% of the future resources, Chile is by far the industry leader, driven by Codelco, the state-owned and biggest copper company in the world. Due to the great mineral resources many international companies have set operations in the country, but Chile, as many other countries, is vulnerable to climate change and so is the mining industry.
Climate change has led to higher temperatures and less rainfall in the northern and central parts of the country. Less water also means less hydroelectric power generation and thus higher energy costs. These are two clear examples of how climate change affects the mining industry, reducing the countries competitiveness as water and energy become more scarce and expensive. But what can mining companies actually do to counteract these effects? Are they doing enough? Can the big players like Codelco, BHP Billiton or Freeport McMoran learn from other smaller companies to be more efficient and sustainable?
Antofagasta Minerals, the biggest private mining company in the Chile has embraced sustainability as an integral part of their business model. In their four mining operations, they have worked in the development of new technologies, that have significantly improved mining efficiency and reduced environmental impact, reducing water and energy consumption and producing less waste.
New sources of water
Fresh Water is one of the most important inputs in copper mining processes[1], but as water has gotten more and more scarce, it became clear for the company that it needed to innovate. In a normal copper operation, after the extracting, crushing and grinding the ore, it comes the flotation process, which is basically adding water with reagents to the grinded ore inside a flotation tank. This causes a chemical reaction that separates the copper from other metals and creates a copper concentrate. This chemical reaction only occurs in the presence of fresh water. While all the mining companies were utilizing fresh water, Antofagasta first started running tests with seawater (without desalination) in 1992. After several years testing and redesigning the mining process it was only in 2011 that Antofagasta was able to export the results to a complete operation. In that year, Antofagasta's Esperanza mine was the first large-scale copper mining company to utilize seawater throughout the complete operation. Due to this successful project many companies have followed the Antofagasta's example and are building new projects either with a seawater processes or with desalination plants. According to Figure 1 it is expected that by 2026, 50% of the water consumption will come from seawater.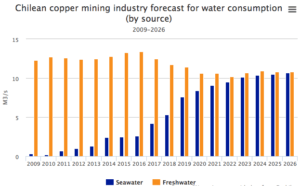 Moving towards clean energy
Energy accounts for about 15% of Antofagasta's costs. As electricity has gotten more and more expensive the company took action in two directions: improve the energy efficiency and diversify the energy supply with renewable sources. Regarding the energy efficiency, the company pursued new ways to improve its energy utilization and it came out with the solution of utilizing the conveyor belts operated to move minerals and waste through the operation. Antofagasta developed a mechanism to take advantage of the momentum of these conveyor belts to generate electricity and thus reduce the energy consumption of the system. In addition to this, the company adopted a leadership role on non-conventional renewable energy for its operations, developing and also investing in hydro, wind and solar energy projects to secure its future supply.
These two examples of innovation have made Antofagasta a leader in the mining industry where companies like Codelco, BHP Billiton and other big players are starting to replicate these behaviors. However, this is not enough, there are still many things that companies can do to reduce energy and water consumption, reduce air pollution, toxin remediation and improve waste management practices. Innovations in technologies, biotechnologies and automation are generating more and more interest in the mining industry, but companies need to start taking the Antofagasta's approach and invest more in R&D, so they can lead the way to improve efficiency by turning operations more sustainable.
(Words: 795)
References:
https://www.epcengineer.com/news/post/4461/chile-antofagastas-esperanza-gets-creative-with-seawater
http://www.antofagasta.co.uk/media/3111/am-antofagasta-minerals-sustainability-report-2015_v2.pdf
http://www.miningfacts.org/Environment/How-can-mining-become-more-environmentally-sustainable/
http://universalbiomining.com/
https://www.kpmg.com/Ca/en/industry/Mining/Documents/KPMG-Mining-country-guide-Chile.pdf
http://www.bioteq.ca/key-sectors/#mining
https://www.cochilco.cl/Recopilacin%20de%20Estudios/2015.pdf
https://www.theguardian.com/sustainable-business/2015/jan/06/how-new-technologies-are-helping-mining-companies-to-come-clean
http://web.mit.edu/12.000/www/m2016/finalwebsite/solutions/greenmining.html
http://www.bnamericas.com/en/news/mining/seawater-use-in-chiles-mines-grows-by-a-third
http://lerablog.org/business/management/how-mining-companies-are-reducing-the-environmental-impact-of-mining/
http://www.energia.gob.cl/sites/default/files/agenda_de_energia_-_resumen_en_espanol.pdf
[1] Specifically in the Pyrometallurgical process to extract Copper from Sulphide Ores