Solar Street Lamps

Solar Street Lamp is not a new concept but the ability to provide real time monitoring of traffic patterns , pollution control, surveillance systems, and internet connectivity are some of the disruptions that could revolutionize the industry. UJAN Technologies intends to be at the forefront of this disruption…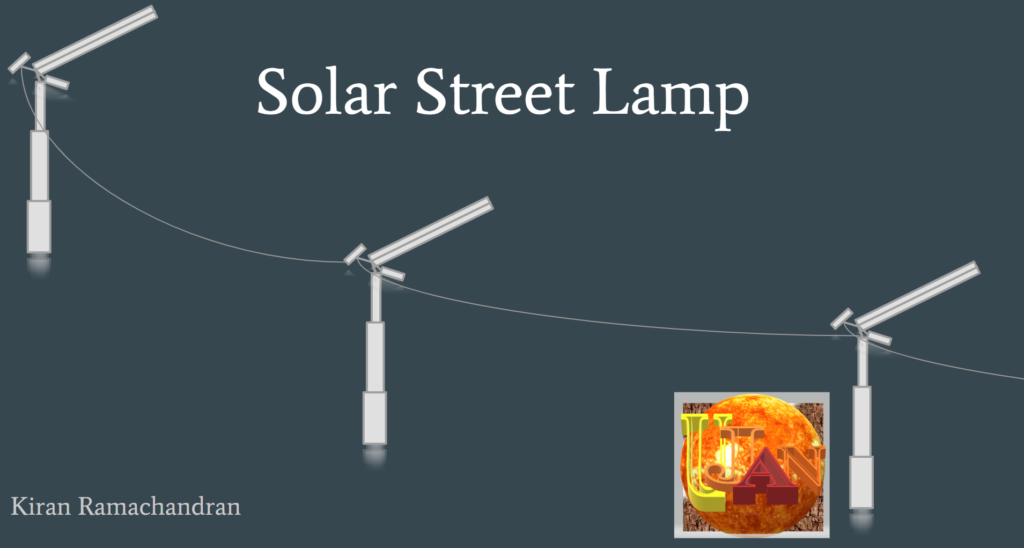 Earth receives several times the solar energy compared to all the energy we consume. Even today Electricity is primarily generated through Coal which has the negative side effects of  green house gas emission.  There has been an exponential growth in the manufacturing of PhotoVoltaic cell making the knowledge and labor cost effective for installing Solar based solutions.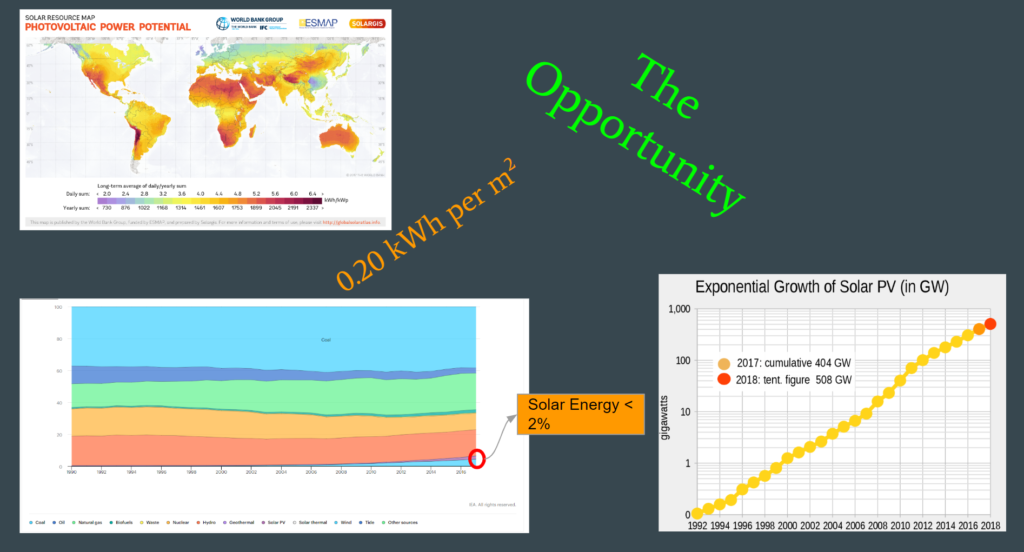 The intention is to raise 600 MM$ and make 12-15% Return on Investment by building an open source cloud based platform on a connected Solar Network Grid.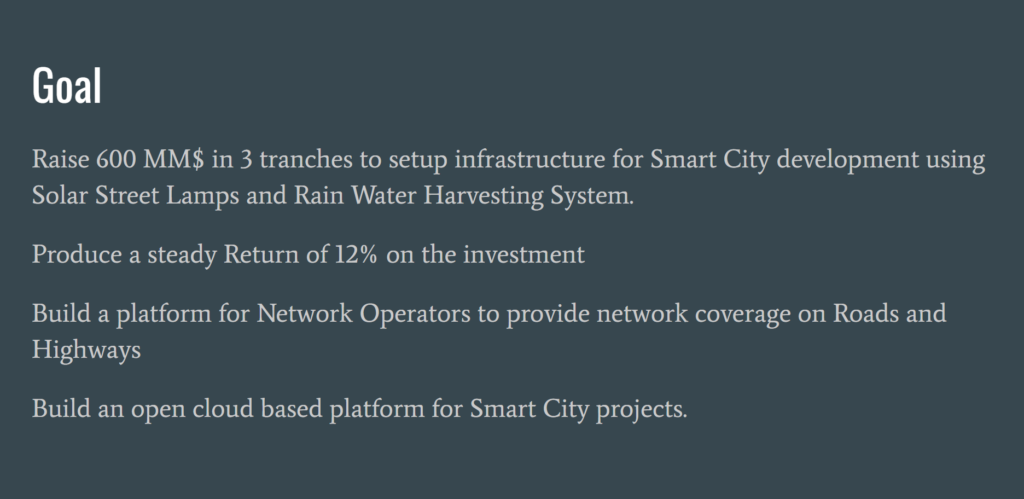 By installing Solar panels on Street Lights and connecting them to the grid we can distribute all the unconsumed energy back to the grid. by adding modules like low light camera, Motion detectors we can create a platform for  a cloud based surveillance and monitoring system. Additionally motion detectors will ensure street lights are powered on only when required thus saving on energy consumed. The excess energy saved can be returned to the grid for higher profits. All components will be standardized and  expandable. This will allow for low installation costs.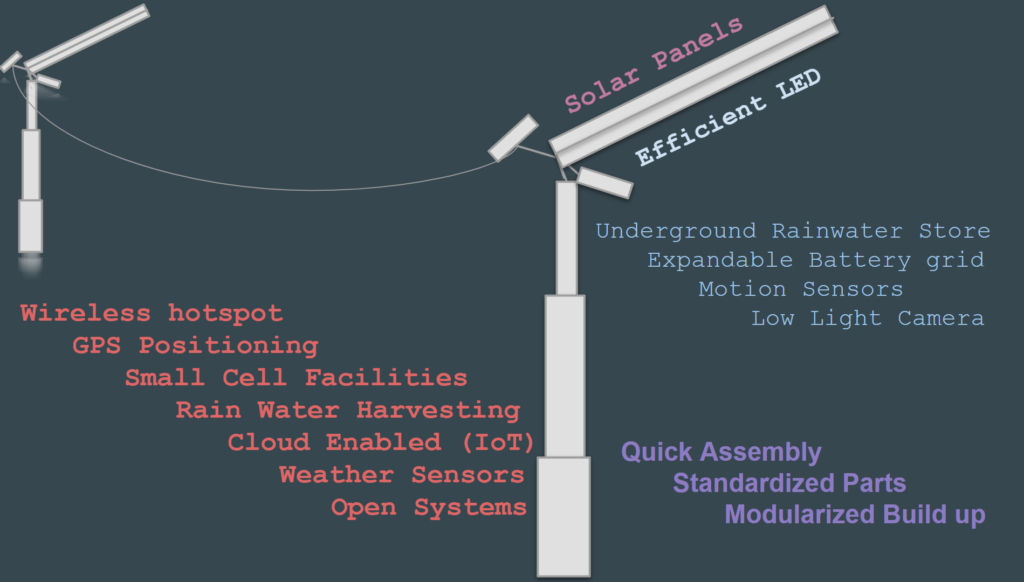 Providing an underground rainwater harvesting storage enables cooling of the solar panels to help it function optimally.  Not to mention this could be a boon for Rural drought hit villages in India and Africa where potable water is scarce. Installing small cell facilities on these Solar Street Lights allows to sell the network Bandwidth to various network carriers. Mounting of GPS ,Cameras, Weather Sensors can enable better prediction of Traffic patterns movement of pedestrians . Storing all the data in a centralized cloud platform will also enable City planners  to better diagnose and react to events and calamities.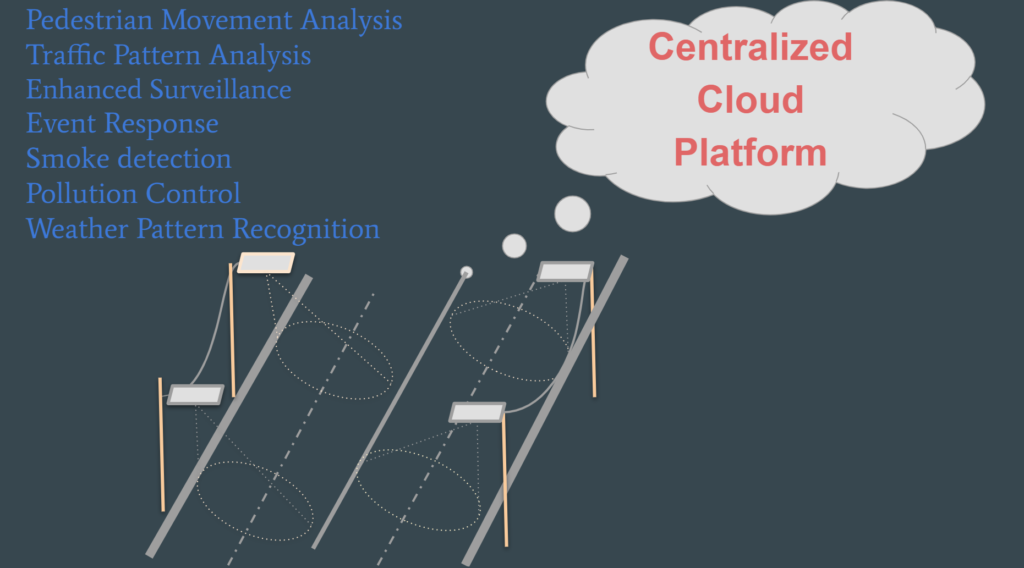 The business will be broken into 2 lines. There will be a consultation line of Business that will provide for data analytics and  will be the primary source of income. There will be the Manufacturing line which will cater to building standardized components that can be installed on the existing or new Street Lights. As the business grows consultation services will provide for the analytics needed to pay off the CapEx investment on the Manufacturing Side.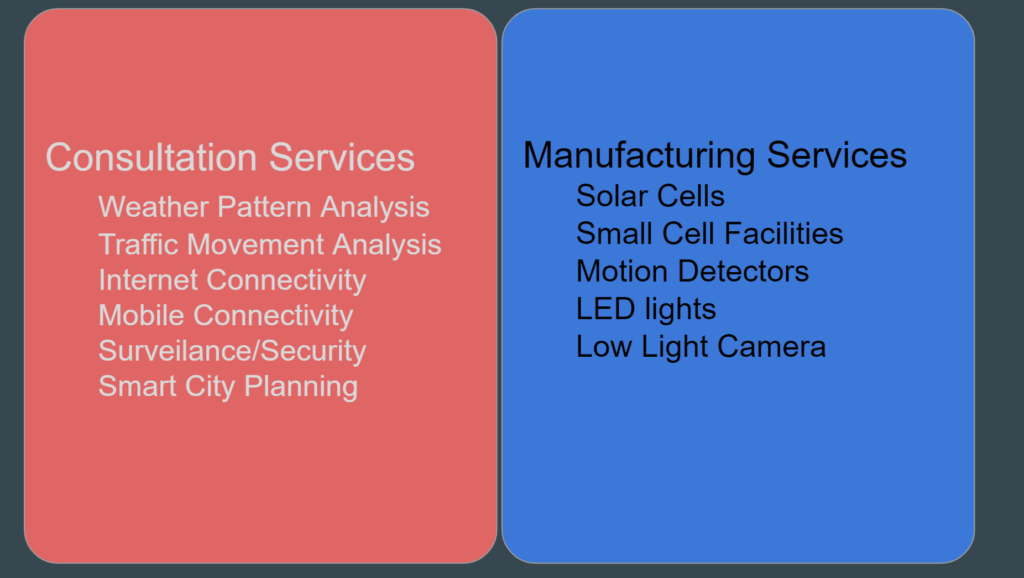 Consultation Services will be based on a subscription Model. The vision is to build an open platform for various players. Data will be shared based on a subscription plan.  For weather services, data will be shared with various weather channels . Traffic analysis could be shared with government agencies and private industries who would like to get the information on the same. Internet connectivity could be provided to commuters on the highway or street using Wifi and higher speeds could be provided based on subscription. Boosted Network connectivity can be provided to Network carriers who wish to subscribe.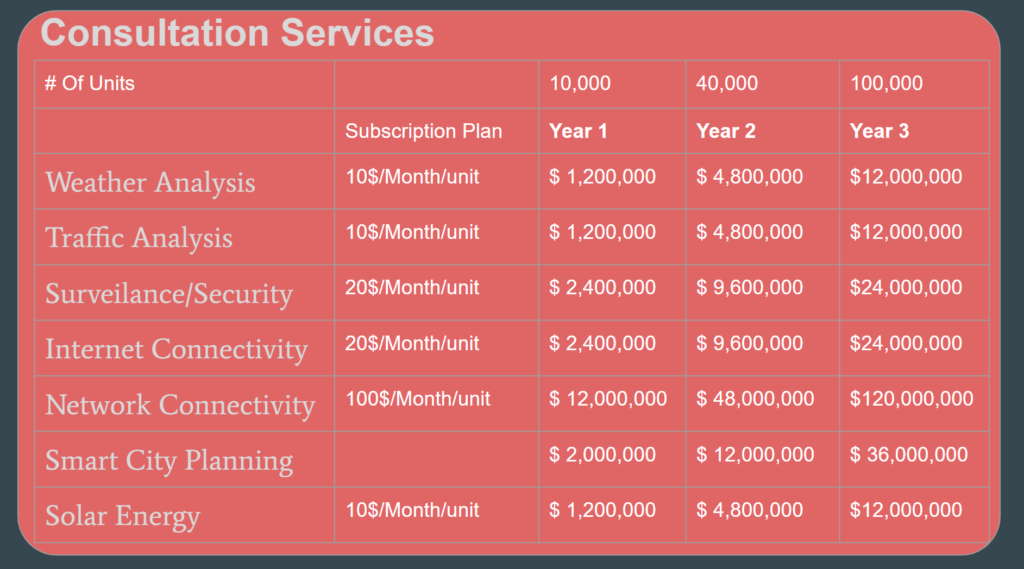 As all consulting services are  based on data not all parts need to be manufactured and deployed upfront. We can choose to sell different parts to different cities and governments. A city that has already installed Solar street lamps may not be interested to make another Capital investment into the same . We could install the modular Motion sensors and cameras and sell them the subscription for the  surveillance system..