Global Education Unlocked

We propose a solution built on data-centric technology to improve access to education and learning outcomes for everyone.
The Problem
Our challenge is to unlock the power of education for everyone by using technology to create a step-change in learning outcomes. 
Traditional education at the school level (K12) is beset with problems of access and resources, creating a gap that is daunting for most kids in the developing world and the underprivileged in developing countries. We are engaged in developing technology-based tools and solutions that can convert learning into an open resource to unlock the unique benefits that only education can bring.
We are all familiar with online learning in many forms today, from a quick google search to e-learning for training at one's workplace. Although mostly limited to higher education or skills retraining in technology-related subjects, MOOCs (Massive Open Online Courses) have become ubiquitous. However, the large enrollments and flexibility of these virtual classes create an impersonal atmosphere and they suffer from a high dropout rate.
Most current offerings in online education at K12 level have many shortcomings. Even worse, with the pandemic has come a forced adoption of online education that was never planned for and is severely limited in what it can provide young learners.
At the most basic level, most public schools in the US provide to each student a laptop or tablet device, along with subscription to a cloud-based subscription to productivity suite. However, the classroom is traditional in every sense, including instruction and activities.
At the K12 level, two major types of online classroom offerings exist:
Blended learning and
Distance learning.
In the blended classroom, teachers utilize computer-mediated personalization of instruction sets and flexible learning schedules for each student. However, the course contents are the same for all students and are the same as traditional classrooms. Automatic feedback from quizzes often do not relate back to concepts or skills of the subject matter. Tracking progress individually is also a challenge. Measurable gains in learning are hard to assess, partly because of lack of standards in metrics. The blended classroom is only available in a few schools in the US and is largely experimental and exclusive.
Distance education (also called remote or virtual learning), is typically only available as a supplement. Students and parents use online course material on a fully flexible schedule.  Assessment-based personalization of material and progress tracking through coursework is available on some platforms but a sense of community is difficult to foster at scale. Pedagogical developments in this space are still evolving. Moreover, barriers to access remain strong.
We founded Broad Learnings with the vision to help everyone the opportunity to maximize their learning outcomes, regardless of barriers. Our platform not only provides free access to quality academic material to all, but also offers personalized learning paths for students. However, we find that to realize our mission, we need to wield next-level tools, technologies, and methods in innovative ways to win a step-change in learning outcomes for all students. This is our challenge.
Target Market and Size
Online education is a high growth sector in an enormous market. Total expenditure on education and training from governments, parents, individuals and corporates continues to its historic growth path and is projected to reach USD$10T by 2030 (Figure 1)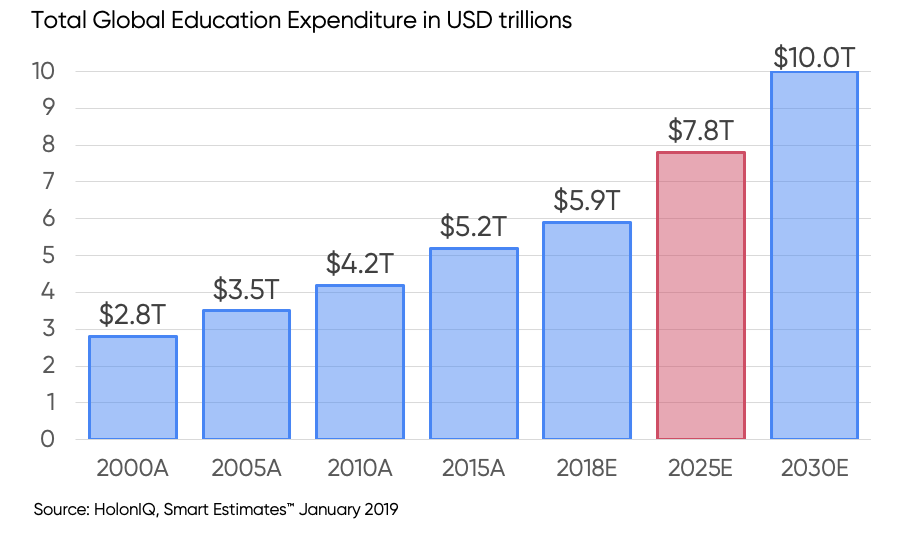 The portion of expenditure currently devoted to education technology in only 3%, showing clear growth potential. In fact, the total global education technology expenditure is expected to grow to USD$342B by 2025 (Figure 2), still only bringing up the digital spend to only 4.4%.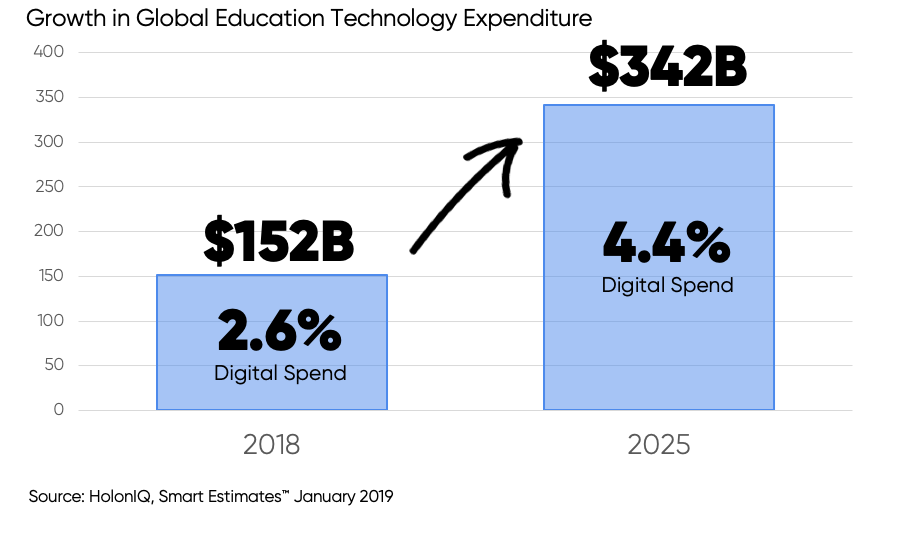 By 2025 more than 0.5 billion more school and university graduates are expected to be added globally, most of the addition driven by population growth in developing countries. The growth potential and its global dimension has not gone unnoticed by investors. 
In fact, venture capital (VC) investment has been on an uptrend, going up to a total of USD$8.2B. Compared to other sectors of similar size, this is measly. It is also concentrated geographically (Figure 3). With a big change in 2018, China now makes up over 50% of all VC investment in education, the USA 20%, India, 10% and Europe 8%.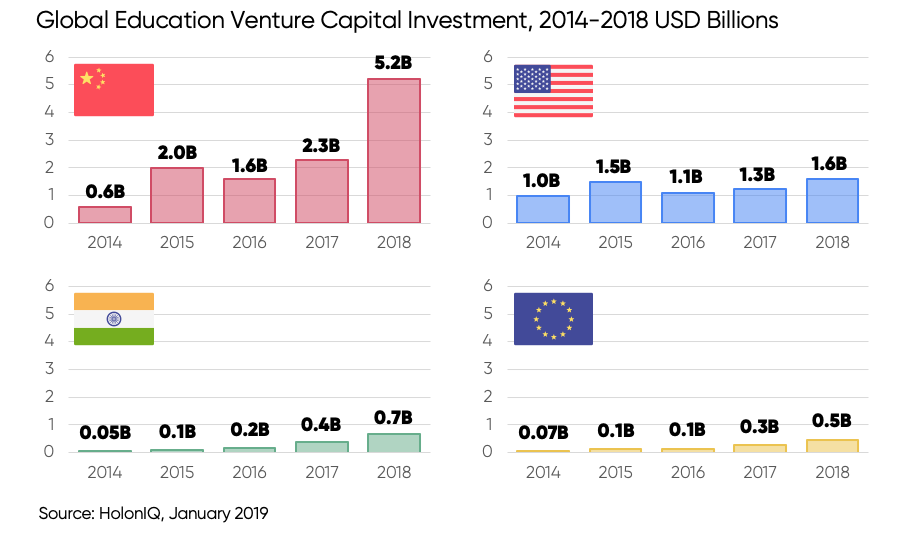 We want to start with the US and India. They are the two biggest user groups for us today and they are both large markets with enormous growth potential. 
Target Customer
Our customers are parents with school-age children (K12 level) who want to use online learning to supplement education. The kids are the end users. Hence, their needs must be understood and taken into account. Teachers/Educators will also be able to publish their own content, subject to some guidelines.
Parents are asking for engaging course material with ability to track their kids' progress. They find school evaluations limited and not granular enough. Single parents and immigrants are particularly invested in academic progress of their kids. Most are willing to pay a subscription price of up to $20/month. A couple with dual income spends over $200/month on online education, but still feels overwhelmed by learning needs of their kids.
We found that parents in immigrant communities and in developing countries are hyper-competitive. Some of them can gain social prestige from their kids win at contests, such as RSM (Russian School of Mathematics), MathLeague, and GeoBee.  Kids themselves naturally love competing with their peers.
Quizzes and evaluations are especially attractive to many parents and teachers. Teachers mention need of material to be aligned to state and national standards. Many teachers would also like to sell online the lessons and activities they create for their own classes, even if it is free or low-priced.
Following are some quotations from potential users we have interviewed:
"I would prefer going through text/pictures lessons before taking quizzes/tests more than videos. I want to use any website that has competitions and rewards after that",

 

"Courses should have interactivity and provide help as needed",

 

"Platform where I/parents can track my progress",

 

"Something that helps me prepare for competitions and college",

 

"I would love if it keeps me engaged and helps me solve real world problems",

 

"Index card on the website will help as English not first language",

 

"Love online websites to supplement traditional school".
The Solution
Broad Learnings is an online platform currently providing free courses, including interactive quizzes and trackable progress, for the K-12 level. We currently cover life sciences, chemistry, and physical sciences (figure 4). We have also partnered with a non-profit, OpenUp Resources, for their middle-school math curriculum. Their curriculum has been independently reviewed by EdReports and the Louisiana Department of Education.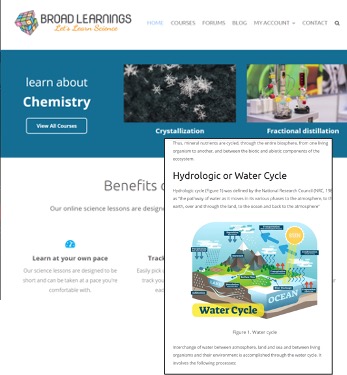 In the solution proposed here, we will utilize a framework built on data analytics and AI technology with the twin goals of driving up student engagement and learning outcomes, to go well beyond our present offerings.
Our solution will be delivered within the following "4C" framework (Figure 5):
1) Context: Developing proficiency and recognition to develop self-assurance and learner identity. 
2) Content: Providing open access to highly personalized automated lessons and progress tracking.
3) Contest: Gamified environment to share ongoing achievements for rewards and participation in periodic competitive events.
4) Community: All the above will be in service of a safe, participative, community of engaged learners.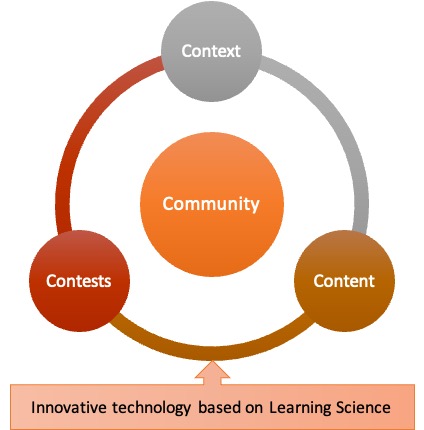 To engage meaningfully with the world, students should have a self-assured sense of "learner identity". Identity is a "person's changing view of him/herself in a given social context influenced by their experiences, personal history, and other events". For example, students' mathematical identity is how and who they see themselves as in the mathematics classroom, in their relationship with the subject of mathematics and mathematical activities. It is not uncommon to find someone who developed the idea that they are not good at mathematics based on their elementary school experience. 
We want to provide an environment where this becomes possible for all our students. Research has shown that positive learner identity comes from a sense of accomplishment and recognition in community. Hence, our students will develop and test proficiency through tightly-coupled instruction and assessment pattern. They will be able to share their achievements as rewards and badges. This will also help them seek out other students they can work together on.
The instructional content will consist of small and micro-lessons with associated quizzing. The assessments will be automated and adaptive. High-resolution personalization in lesson plan will help us reach students both individually and at scale.
Our content will be aligned to standards and curricula. For content created by us, we will note the alignment to standards (e.g. TEKS). But we will also use content created and approved from curricula developed by others. We encourage links to high-quality sources outside own website.
From our personal experience and interviews with kids and parents, it is clear that students love to compete and play, and will do so if they feel supported and are given the space to develop any amount of skill and proficiency. The proposed solution offers not only the ability to track and analyze performance through short and long assessments but also the chance to engage in competitive events to showcase and improve skills at any level. A global leaderboard will be maintained with shared performances metrics. Users will be able to deep dive into their performance data along specific skills, concepts, and subject areas.  
A user will be able to participate use the software to use the 4C framework to explore and compete course content and assessments, track and analyze their performance, and share and connect with the community (Figure 6). All of this will go on to improve learning outcomes and higher engagement.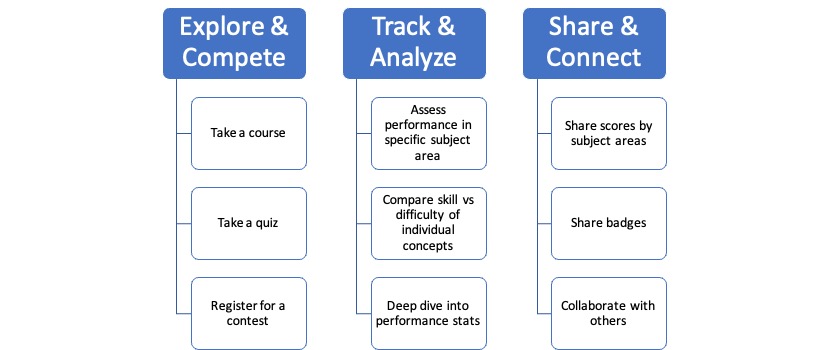 The scale of solution will be driven by use of following technologies that are already available:
Gamification
Community building online

 

Recommender systems
Reputation systems

 

Automatic Item Generation.
The ability to scale the solution comes from combining technologies being available now, rather than developing new ones. The platform will be designed to gather data and continuously improve the data platform. This data-centric design will also provide the opportunity to apply learning engineering to create learner-centric instruction design for our courses.
Learning Science, through multiple research studies, has identified principles and recommended specific instructional design strategies for online courses. However, the studies have been performed mostly in laboratory conditions. 
We propose to remedy this by conducting multivariate testing of the recommended instructional strategies on a large sample of our website users. The results obtained from multivariate tests will indicate the strategies that have the largest impact on our target population. We can then apply the most impactful design strategies to our existing and future courses to improve our offerings. Hence, this will not only provide more insights into how students learn online but also use the data to make our offerings more effective for all our users. 
We want to prioritize middle school math because it has been recognized to be a critical bridge for student success even much later in life. Focussing narrowly will also help us develop proofs of concept rapidly and learn from mistakes. Later, similar approach can be repeated for other subjects and grade levels.
We will sell to parents directly from our website, which we will promote through Facebook and Google ads. We will continue to create awareness through social media. We will also market to schools and non-profits programs for the under-privileged. 
We will also promote ourselves by sponsoring school/PTA events. We want to earn trust in our local community and prioritize growth of our user base. We are also reaching out to some educational communities online for partnerships or common ground.
For pre-purchase decision, we will have product demos on our YouTube channel and provide post-purchase support online. We are working on a pilot at a local school.
We plan to work with philanthropic foundations and social impact investors to support our technology development efforts.
Team
Amit Kumar and Namrata Singh are the co-founders of the company and have been running the self-funded broadlearnings.com website since 2019. 
Amit Kumar holds an MS degree from Stanford University and a graduate certificate in Business Analytics from Harvard University. He is a Certified Analytics Professional (INFORMS) and a Certified Scrum Product Owner. Amit developed two software applications as a product manager at Halliburton. He holds 13 patents and has over 15 technical publications. 
Namrata Singh co-founded Broad Learnings. She has a PhD in Biomedical Sciences. She is an experienced researcher with two patents and multiple publications. She has taught undergraduates and is also a certified teacher in Texas. She controls the educational content  on the website.
We have a web developer and a social media marketer working as contractors. We typically engage additional experts or consultants when needed. For example, we contracted services from HeroX to host and advise on our ideation challenge last year. 
Our current preoccupation is to develop a proof of concept for the 4C-based solution proposed here. We plan to hire interns to implement and test out the key ideas. We also have plans to collaborate with researchers in learning science/engineering to use web-based testing to improve our instructional design. 
Competition
For K12 kids everywhere, who want access and opportunity to compete globally for academic excellence, the Broad Learnings platform provides access to open educational material in an engaged community of learners, teachers, and other parents.

 
•Unlike traditional classrooms, our product is accessible anywhere with basic internet and provides high-quality content for free. 
•Unlike Khan Academy/iXL/BeastAcademy, our product will provide content built not only by us but also from others. 
•Unlike Quizlet, which provides study sets and flash cards, we provide comprehensive course material and seamless assessments.
2. Our 4C framework is focused on sharing achievements and building communities globally, not isolated learning. Additionally, we will provide opportunity to test skills at every level of content and underlying concepts in a continuous basis. They will then be able to share these achievements on the platform in form of badges, or levels. Unlike current contests, our service will lets kids compete with peers anywhere, anytime and improve their skills more efficiently.
3.  For K12 kids everywhere, who want access and opportunity to compete globally for academic excellence, the Broad Learnings platform will organize global contest events online in essential skills, such as in number sense and vocabulary, supplemented by learning material with tips and tricks.
4.  We will provide the bulk of our own course material and basic continuous assessments for free. Providing access to high-quality course material for free is fundamental to what we do. However, we will charge a premium subscription fee of $14.99 (estimated) for all free content + class activities + lab activities + all quizzes. For subscription prices, compare Quizlet at 14.99/month, iXL at 15.95 /month, study.com at $59.99 /month, Beast Academy at $15.99/month, ABCMouse at $9.99. In addition, to participate in contests events, we will require the user to have a premium subscription and will also charge a registration fee of $50 per year. The registration fee could be waived for students in extreme hardship.
5. We will utilize our data-centric solution to create learner-centric instruction design for our courses based upon testing of our actual user group. This has the potential to improve learning outcomes for our users.