Stock Market APIs via the Cloud – A Case Study

How should an entrepreneurial venture organize and prepare itself for the seismic shift of digital transformation in the financial data industry?
In a previous opinion piece, we surveyed the platform strategy of Alpha Vantage Stock API, a cloud-based finance API platform that provides high-quality and affordable financial market data feeds to the "masses" – software developers and tech-savvy investors around the globe. Two months have passed, and Alpha Vantage is now a top finisher of the 2018 Harvard New Venture Competition and has just been invited by Y Combinator (one of the most prestigious accelerators in the world) to explore a summer worth of stay in their Mountain View, California office. Alpha Vantage's registered user base has further grown from 60,000 to 80,000 within the same two-month timeframe, currently fielding over 200 million API requests on a daily basis across a monthly active user base of over 50,000 users. Behind the robust growth that seems to have defied gravity, the founders of Alpha Vantage are keenly aware that the company has been blessed by two gusts of tailwinds in the financial data industry – namely, (1) an industry-wide trend of digital transformation and (2) virality and network effects in the tech-savvy retail investor segment. In this blogpost, we will analyze the challenges and opportunities faced by Alpha Vantage with a goal of bringing focus and clarity to the longer-term organizational and strategic implications for the company.
Digital Transformation in the Financial Data Industry
For many members of the Harvard Business School community, the term "financial market data" bears a natural association with a bulky machine called the Bloomberg Terminal. It is undoubtedly a powerful machine, but it is also prohibitively expensive and not easily portable (not to mention the purpose-built Bloomberg Keyboard attached to the Terminal). The Bloomberg Terminal is but one of the many "legacy" providers of financial data, characterized by hefty overhead cost of installing and usage, clunky and rigid user interface, and long enterprise sales and support cycles. If you happen to be working for the Goldman's or Fidelity's in the world (or are fortunate enough to have access to the Baker Library), a legacy, on-premise data provider might come in handy. Good luck if you are just an individual investor or software developer who wishes to access to the same high-quality financial market data at a reasonable price point.
Despite the bleak picture painted above, the time-honored financial data industry, currently valued at $26.5 billion in terms of annual revenues, is going through a seismic shift made possible by cloud-based digital transformation. Consider the following example. The picture on the left is the trading floor of the UBS investment bank in Stamford, Connecticut in 2008; the picture on the right is the same trading floor in 2016. The stark side-by-side comparison highlights a broader secular trend in the financial industry where members of the ecosystem are abandoning legacy service providers for digital solutions in the cloud.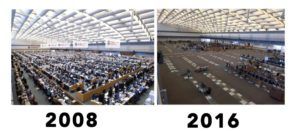 An immediate consequence of the cloud-based digital transformation is the low, if not negligible, marginal cost of serving market data as digital assets. Compare this cost structure with that of Bloomberg Terminal, which has software, hardware, and technical support components. As a result, we are witnessing a faithful reincarnation of Jeff Bezos' famous observation on profit margins in the context of e-commerce: the high-price, high-margin paradigm previously enjoyed by legacy, asset-heavy financial data providers have suddenly become the opportunities for digitally-minded new entrants. Alpha Vantage is one of the first movers among its cohort of financial APIs to seize this opportunity by providing a cloud-based service for the underserved consumers who have had a tragically broken experience of getting serviceable-quality data at a reasonable price point.
Designing for Virality and Network Effects
In Innovator's Solution, Professor Clayton Christensen describes how disruptive innovations create asymmetries of motivation that tend to put established competitors in a strategic dilemma:
Never say yes to a strategy that targets customers and markets that look attractive to an established competitor. Keep sending the team back to the drawing board until they've identified a disruptive foothold that established competitors will be happy to ignore or be relieved to walk away from. If you create asymmetries of motivation, your competitors will help you win. Though you may not have done this before, it should feel good if you are accustomed to bloody fights of sustaining innovation against motivated competitors.
As legacy incumbents continue with their profit-maximizing journeys upmarket (and gleefully ignore the less-profitable consumer segment Alpha Vantage operates in), an asymmetry of motivation has been created. The primary users of Alpha Vantage are software developers and tech-savvy investors who use stock APIs to build compelling domain-specific software applications and to formulate and test trading strategies. These highly engaged and highly inventive users have formed virtual and physical communities, reinforcing the brand recognition and reach of Alpha Vantage. The creative nature of the software developers has also catalyzed strong network effects around the Alpha Vantage platform, as a growing number of software developers create open-source libraries, wrappers, and plugins around the digital assets of Alpha Vantage, making the API platform even more accessible and friendly to new-comers. Indeed, the open-source GitHub community has evolved into a self-sustaining "innovation zone" for the curation and processing of quantitative datasets.
Organizing for Sustainable Growth and Innovation
In the final pitch at the Harvard New Venture Competition, the judges asked the founders of Alpha Vantage: "What is your secret sauce for sustainable competitive advantage?" In addition to identifying the broader industry trend of digital innovation and the strong network effects enabled by a vibrant user community, the two founders highlighted data intelligence as the third pillar of sustainable competitive advantage. The current tech stack of Alpha Vantage is already infused with elements of machine learning (ML) and reinforcement learning (RL) across its data aggregation, normalization, and analytics functions. The end result is an organic learning effect: the more users consume the Alpha Vantage API service, the higher the quality of data becomes thanks to continuous learning from user input and feedback. As Alpha Vantage scales its business model for the longer horizon, data intelligence is poised to take an even larger role in the product roadmap as the company goes beyond the consumer segment and develops propriety market/trading signals and other power tools for enterprise customers. To sustain the robust growth and fuel its expedition upmarket, Team Alpha Vantage must proactively pursue an organizational shift from a product-first company to a data-first company characterized by the following two attributes:
A clear path towards sustainable data acquisition. In launching new features, product managers and engineers of Alpha Vantage should seek positive answers to both questions: (1) Will the new product/feature contribute to customer success and delights that none of our competitors can? (2) Will the new product/feature contribute to the growing data assets that are unique to Alpha Vantage?
A centralized functional group around AI. In the longer term (especially after Alpha Vantage graduates from the Y Combinator summer 2018 cohort), a centralized AI team will be established in-house to achieve the critical mass for continuous innovation in the theory and application of data science.
The backdrop of digital innovation is the Chapter 1 for Alpha Vantage, and may well be only the Prologue for the financial data industry where powerful incumbents are still in control of a predominantly legacy system. Many chapters will have passed before the power of digital innovation is fully appreciated by the industry and its winners declared. But as Jack Ma once said: "Today is hard, tomorrow will be worse, but the day after tomorrow will be sunshine."