Stitch Fix: Personalized Style With ML

This retail tech company's use of AI has gained the envy of Amazon. Dive into how Stitch Fix reinvented retail and personalized shopping with a mixture of AI and expert stylists.
Company Background:
Founded in 2011 as a way to create a truly personalized shopping experience, Stitch Fix is a new way to style. The service offers busy women online access to personal style using a new version of retail that uses expert human stylists with technology. Recently, the firm has started the expansion into offering the same service to men's wear, children's wear, plus-size, and the UK market [2].
The process:
Customers start by taking a style quiz.  This quiz is an algorithmic way to gain data and awareness about the customer ranging from their size, age, and taste in clothing. Once Stitch Fix has a handle on what would work for the customer, they offer two options for customers to get their hands on the styles.
Option 1 – Get clothing hand selected by the Stitch Fix expert stylists delivered to your home. Once you try on all the pieces and decide which pieces are keepers, you can send back what you don't like. A $20 styling fee is charged to cover the costs of doing so if you like nothing. If you do purchase some items, the $20 is credited towards the purchase.
Option 2 – Make an instant purchase based on recommendations from your style quiz. This option is better for the more decisive clients that are prepared to purchase without trying it on first. The caveat here is that you are required to receive at least one "Fix" in the mail before going to this instant purchase step.
For both options, there are no required subscriptions, free shipping/returns/exchanges, and personalized styles, fit and prices. In 2018, the company launched the optional subscription service that allows regulars to pay $49 per year for more personal style services.
Proven Model:
While it did not appear to investors as the hottest use of AI and ML, Stitch Fix has proven its business model and has shown a real demand for the service. In 2017, the IPO for Stitch Fix started them off with a valuation of $1.6bn around $18 per share. Today, one share is worth over $43 with a market cap over $4.5bn.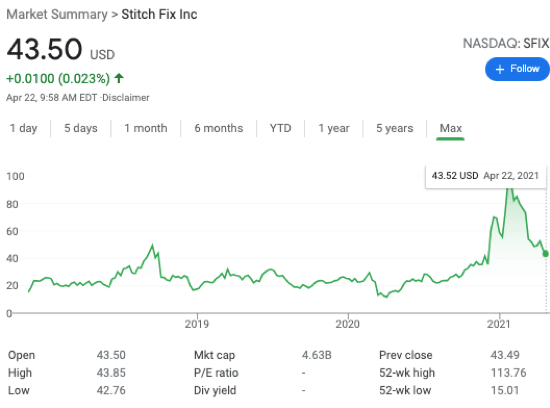 Threats:
In the last week, the founder, Katrina Lake, has stepped down as CEO. This poses a key man risk for the company as she had the original inspiration for the service from getting fashion advice from her sister. Consistency in the mission and customer service will be key to watch through this transition.
Acquisition could also be an option as other retailers like Walmart and Target could be interested in jumping into this new field of the industry. This could be seen as a threat or a strength.
Amazon, on the other hand, represents a very clear threat for the firm as it builds its own capabilities in the space. Amazon has now created Personal Shopper by Prime Wardrobe which seemingly imitates the service at Stitch Fix rather closely. At $4.99 a month for a subscription to this service, Stitch Fix will have to work diligently to stay ahead of the e-commerce giant.
Sources:
[1]. https://investorplace.com/2019/06/stitch-fix-stock-rallies-big-after-earnings-prove-the-sfix-narrative/
[2] https://investorplace.com/2019/08/10-companies-using-ai-to-grow/