MasterClass – Mastering Scale as Edutainment Platform?

MasterClass is a platform that provides online video courses on topics from film directing to tennis taught by iconic figures (like Martin Scorsese and Serena Williams). As they raised $80M Series D funding in 2018, they must master scale sustainably.
MasterClass is a platform that provides online video courses on topics from film directing to tennis taught by iconic figures in each field (like Martin Scorsese and Serena Williams). Launched in 2015 and it has raised $136M to date from top VC firms like IVP, NEA, and Atomico while gaining brand recognition among millions of Americans. [1].
MasterClass is best suited for creative people looking for inspiration from the world's most successful people. It offers classes for writers, photographers, musicians, journalists, athletes, and much more. In contrast, many other online education providers focus on providing you with practical skills, such as in the areas of business or data science.
Value Creation
Education + Entertainment.

MasterClass's value proposition is that "You can learn from the best while being entertained in the process". It's an experience that is similar to watching Netflix, except that instead of mindlessly consuming content you're learning from the world's top creators.

High quality instructor + WoM marketing.

Every single teacher is quite simply world class. The company currently offers 80+ classes, including hours of instructional insights from Martin Scorsese, Ron Howard, James Patterson, Gordon Ramsay, Serena Williams, among many experts in their respective fields. This dynamic drives word of mouth marketing for MasterClass courses ("My screenwriting class is taught by Shonda Rhimes!"), accelerated by the large social media followings of the instructors and the free publicity their course generates in the news.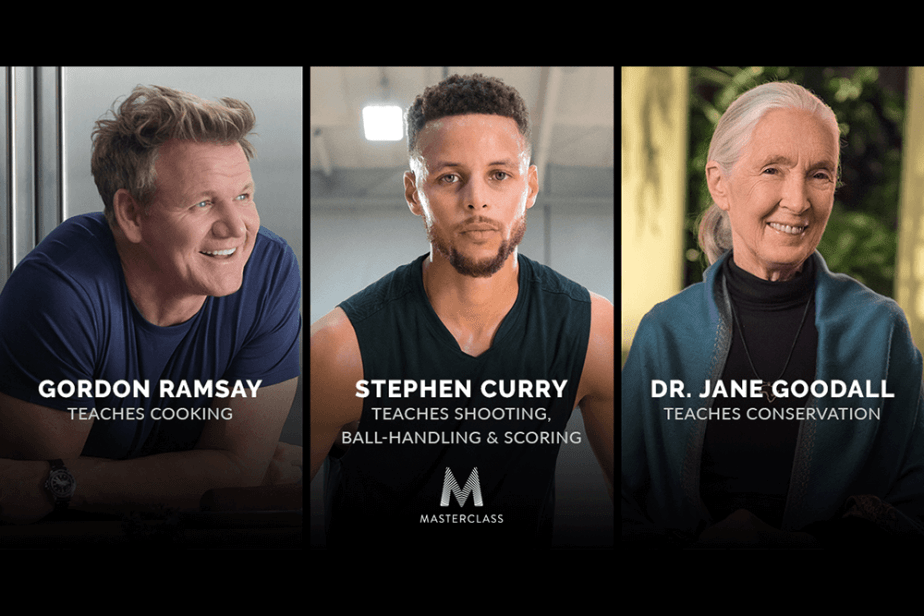 From HBS Digital Initiative
Differentiation with EdTech competitors on content.

From the start, MasterClass has taken a different path from other startups in the online courses segment of media (often called MOOCs, or massively open online courses) by specializing in capital-intensive, high-production-quality video series with the biggest names.

Data-driven approach + Network effects.

Due to the user inputs of subscription streaming services, MasterClass can gain an advantage against the crowded field of quantity-over-quality competitors in monetization and defensibility. The more subscribers who sign up for must-see content by the celebrities they look up to, the more MasterClass can invest in the next slate of courses to ensure more hits, and the more data it collects on user engagement to improve their productions. This feedback loop empowers them to grow faster than competitors can keep up.
Value Capture
Monthly / annual subscription model.

To increase backet size and encourage more content engagement, MasterClass rolled out a new subscription model that allows customers to pay an annual fee of $180 for access to all MasterClass lessons, which are otherwise $90 each class (which it used to be until mid 2018). It's been a huge success so far, counting for 80% of the company's revenue. The company looks ever less like a MOOC and more like a Netflix-style SVOD (subscription video on demand) platform for educational video series.

Mix of structure with celebrities.

It's a mix of either a fee or a back-end royalty.

According to

Hollywod Reporter

[2], they have likely done so by accepting a $100,000 advance for each course they deliver, along with 30% of the revenue their classes generate.

Revenue on par, with higher engagement metrics.

According to co-founder & CEO Rogier, MasterClass revenues were just shy of the leading MOOCs, Udacity and Coursera, which are understood to be in the $70-100M range [3]. The MasterClass video library will have a longer shelf-life than educational videos from unknown names. And in terms of completion rate, the average MOOC sees 4% finish a class, MasterClass's rate is 5-8 times of that. 
Scalability & Sustainability as EdTech Platform
Capital intensive & user retention.

Similar to starting a company in an industrial or highly regulated industry, starting a media startup focused on high-quality productions is capital intensive. Therefore, there are limited classes in the library given any subject and how MasterClass can retain users on the platform after acquiring them remains unknown. 

Deeper or wider?

The key strategy question in the educational content space is often whether to expand deeper or broader. MasterClass offers quality in terms of talent and production value but has made big investments into adding introductory courses across a wider range of skills from a wider range of VIPs rather than creating more advanced course material for users to keep progressing in one skill area.

Is it education? Or entertainment?

Education is the process of facilitating learning, or the acquisition of knowledge/skills. However, MasterClasses's form of teaching is a collection of tips and reflections. Stuart Rogers, who runs an L.A. acting school that has been home to Allison Janney and Octavia Spencer, has a similar perspective: "It's not a master class, or a class of any kind," he says. "It's tips and anecdotal information — a very cool thing professionals have done to share stories about their art. But it's not training." [4]

Lack of community.

Once signed up for the class, members also gain access to the MasterClass Community called the "Hub", where you can join discussions, share work, and connect with your fellow students. However, it doesn't seem like there's a huge amount of interaction happening. MasterClass is better designed for video consumption rather than collaborative learning.
What's Next?
On the short term, some of the newest 2020 instructors include diverse women and amazing artists, as per Rogier, he wants to change "how mastery looks like". In fact, they're really well-rounded this year. With multiple business courses, a dance course, music course, and writing courses, there's something for everyone this year.
On the long term, whether MasterClass can continue to scale sustainably as a Edutainment platform remains a question. Founder Rogier mentioned that his mission was to change people's lives and he wanted to use "life changed" as a KPI metric to track. As noble as it sounds, is it a viable business model? Celebrity instructor resources and content refresh seem limited, which leads to a lower willingness to pay from the user end. In comparison, other VC-backed MOOCs (like Coursera, Udemy, Udacity, and others) started monetization with certification and corporates training (internal training and employees' continuing education).
Sources:
[1] https://techcrunch.com/2018/09/11/masterclass-is-mastering-scale-as-a-media-business/
[2] https://www.hollywoodreporter.com/news/what-masterclass-online-courses-pay-lure-hollywood-stars-as-teachers-993159
[3] https://techcrunch.com/2018/09/11/masterclass-is-mastering-scale-as-a-media-business/
[4] https://ideapod.com/masterclass-review-are-their-online-classes-worth-your-money/