Empty Stadiums – The National Football League Combats Losing Nearly 25% of Its Revenue Stream

The NFL uses technology to engage with fans and sponsors in unique ways.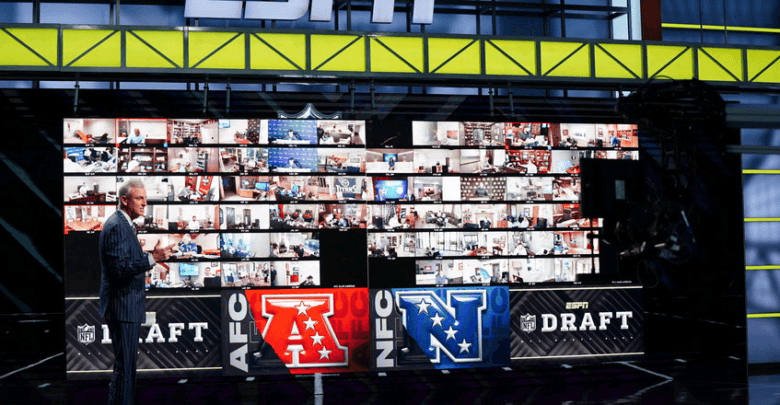 There are few industries that have been harder hit by the pandemic that Live Entertainment. The "Live" part has become effectively impossible. Sports stadiums, arenas, and concert halls do not come anywhere close to meeting social distancing guidelines at capacity. Besides losing nearly 25% of their revenue from the loss of gate / ticket sales, how do sports leagues continue to innovate and engage with their fans when they have lost (for the most part) their most impactful connection point? The most valuable sports and entertainment property in the US, the NFL, experimented with innovation in a few different ways this year.
The NFL Draft – the annual selection of college players to the professional ranks is one of the greatest success stories of turning a low impact event into one of grand stature and entertainment value. The event normally takes place in a major metro areas with thousands of fans and potential draft picks gathered together. However, this year that was impossible. Scheduled during the peak of the lock down in mid to late April, the NFL was force to go completely remote and completely virtual. Seven Rounds, 32 Picks Per Round Means 200+ Video Feeds – and that doesn't include the one from commissioner Roger Goodell's basement and the integration of media partners like ESPN. And how do you include the fans? You ZOOM them in, of course. All kidding aside, the NFL pulled off nothing short of a miracle. Oh – and it delivered record ratings compared to years past.
Sponsors – Corporate partners derive a lot of value from the "impressions" that they have with fans in the stadium – via large signage, on site brand activations, and consumption of their products. When the potential for those impressions was eliminated, many sponsors scratched their heads on where their millions of dollars were going; some wanted it back or expected that value to be realized in some other way. The NFL had to get creative. Empty stadium meant more space for signage, both physical both also new digital renderings where fans used to be. These new signs and logo placements could be viewed on linear media coverage – bringing the in person impressions into peoples living rooms. Teams also got creative with more sponsor branded mobile, digital content that could reach fans at home.
Engaging Young Fans – perhaps the best way to capture a fan for like is to get kids to the stadium and amaze them with the spectacle of the event. But when you can't get kids into the stadium – how to you recruit your new fans…the lifeblood of your organization for years to come. Traditional, linear broadcasts with in depth analysis are boring for the younger generation. The NFL decided to slime things up with a new, digitally enhanced simulcast of live games on Nickelodeon geared towards to younger fan. Engaging and fun digital graphics of Nickelodeons trademark slime and popular characters like Spongebob were super imposed and integrated into the traditional linear coverage.
Keeping Players Healthy – without healthy athletes, there is no game and there is no revenue. With active rosters of 53 people and countless coaches, medical staff, and other assistants assembled multiple times per week for practice and for games, it was essential to have proper contact tracing measures in place in case of a team outbreak. The NFL looked to technology to do so. All players and staff were required to wear GPS enabled proximity tracking devices (they were built into players equipment during practice). In the case of a positive test, the NFL knew EXACTLY who had been within 6 feet of each other during the infection period and could react swiftly to isolate those affected.
The season wasn't perfect, but the NFL moved nimbly and leveraged a variety of technologies to still deliver a strong product to its avid fan base during a season with numerous obstacles. The NFL Draft will certainly not remain virtual, but there are new aspects of the events broadcast that are likely to remain in years to come. Sponsors have long been craving a shift from traditional assets to more engaging, one-to-one digital experiences. The pandemic forced sometimes slow organizations to adapt or risk losing their contractual payments. Simulcasts that appeal to the younger generation have been discussed for years – but there has been little incentive to innovate when media contracts continue to escalate. The pandemic created a space and necessity to at least test SOMETHING or risk a full year of low engagement with the next generation of fans. Player Safety and Fan Safety were a hot button issue for both the players union and regular event attendees. The NFL's necessary embracing of digitally enabled biometric tracking devices can pave the way for the continued adoption of such technologies benefiting the long term health and safety of their athletes and the fans in the stadium.
The pandemic decimated the sports and entertainment industry in the short term. It may, however, end up being a catalyst for change and rapid adoption of digital solutions to existing problems that leagues and teams have been slow to address, potentially positioning incumbents in the industry for more long run viability and value creation.