Blizzard Entertainment: Crowdsourcing the World's Most Popular Digital Card Game

How did Blizzard Entertainment leverage crowd intelligence to create the world's most popular and profitable digital card game?
In March 2014, Blizzard Entertainment released Hearthstone: Heroes of Warcraft, an online collectible card video game (CCG) that built upon the lores and characters of its flagship World of Warcraft franchise. Hearthstone was first released on MacOS and Windows platforms, with iOS and Android versions developed soon afterward. In March 2017 (the 3rd anniversary of the release of the "vanilla" Hearthstone version), Blizzard reported a record 70 million unique Hearthstone players around the globe. In the e-Sport scene, Hearthstone has become the most watched competitive video game among the CCG genre. The game also garnered numerous critical acclaims, exemplified by IGN's Justin Davis praising the game for its "elegant simplicity of rules" and "impressive attention to detail and personality, and the true viability of playing completely for free make it easy to fall under its spell and get blissfully lost in the depths of its strategic possibilities."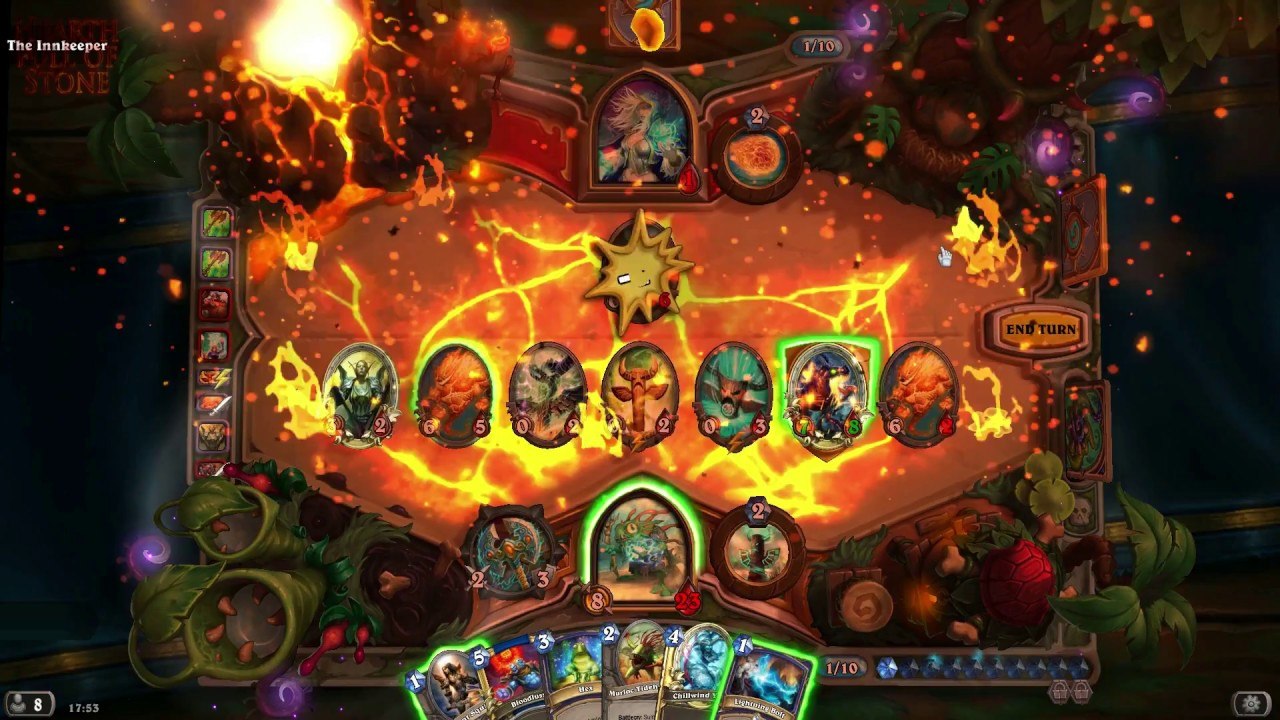 Figure 1. Hearthstone is a turn-based card game between two opponents, enriched by dazzling animations, unbounded strategic possibilities, and a nostalgic throwback to the World of Warcraft universe.
In developing Hearthstone, Blizzard leveraged crowd intelligence and community engagement in a way that was unprecedented in the history of Blizzard. This blog surveys the "crowd factors" behind the world's most popular and profitable digital card game.
Crowd Ideation for Game Design
Since the public beta of Hearthstone in 2014, Blizzard has dedicated to a "rhythm" of 400-500 new digital cards per year to keep the game from getting stale. Creativity soon became a bottleneck for the internal Hearthstone design team, as the quality and playability of new cards fluctuated wildly and disillusioned players vented their frustrations on popular gaming communities such as Hearthpwn, Battlenet, and the Hearthstone subreddit. Until then, Blizzard had closely guarded their game design as trade secrets and aggressively avoided external inputs or interferences. But for Hearthstone, Blizzard made a deliberate choice to invite their global fan base to co-design new cards (and even new in-game modes) as an eternal fountain of creativity. For example, Blizzard hosted monthly card design competition on Hearthpwn, and used a reputation/voting system to incentivize active engagement from the users and to identify the crown jewel of the crow intelligence. Occasionally, such crowd engagements even evolved into a talent acquisition mechanism for Blizzard. Shortly after the release of the League of Explorers expansion, Ben Brode (the Game Director of Hearthstone) invited a contributor on Reddit to join Blizzard as a game designer (Figure 2).

Figure 2. Product co-development with the "crowd."  After a Hearthstone enthusiast posted his own design of 300 new cards for the digital card game on Reddit, Ben Brode, Chief Designer of Hearthstone, invited the Reddit user to join the Hearthstone design team
Crowd Content Generation as Catalyst for Viral Growth
In addition to value capturing in the forms of crowd ideation and talent pipeline, Blizzard also leveraged crowd participation to enhance the "viral coefficient" of the gamers population. Instead of relying heavily on paid marketing to acquire new users, Blizzard is known for identifying e-Sport celebrities and popular Twitch streamers who may later on create compelling multi-media contents for Hearthstone. Those influencers, once converted to Hearthstone, will in turn bring along their huge base of audiences and followers in an organic fashion. As the install base grows, more user-generated contents will be created, spurring even more engagement in the forms of fan gatherings, card design competitions, emotionally charged card strategy debates, just to name a few. The end result: a loyal online community and a vibrant e-Sport scene that reinforce the position of Hearthstone as the top digital card game with compelling crowd-generated content and viral dynamics.
In closing…
In just two weeks, the newest Hearthstone expansion – Witchwood – will meet the world. Having used crowd intelligence to scale game design creativity and catalyze viral growth to date, can Blizzard continue to deliver best-in-class game experiences in the next era of AR/VR revolution?