Appear Here: "Airbnb of Retail"

Appear Here is an online marketplace for short-term retail space. Appear Here functions as something of an Airbnb for retail space, its online platform that allows landlords to list their empty space for free, for brands to book it as easily as booking a hotel room.
Appear Here is an online marketplace for short-term retail space. Appear Here's online platform that allows landlords to list their empty space for free, for brands to book it as easily as booking a hotel room. Hailed a "Digital game changer for the high street" by The Guardian, Appear Here has raised a total of $21.4 million in VC funding from the previous backers of Hailo, Pinterest, Spotify and Trivago, and have recently announced a strategic partnership with Fifth Wall Ventures after raising $12 million in series B funding. Appear Here launched offices in Paris and New York, and plan to expand further into the US and Europe.
Value Creation:
Appear Here functions as something of an Airbnb for retail space. The idea is to connect brands, retailers, designers and entrepreneurs with available space, and as frictionless as possible and all done online. Appear Here has been spearheading a shift in the retail and real estate sectors by making it easy to find space, connect with landlords, and book in 3–6 days (compared to the industry standard of 60 days). The company is looking to capitalize on Manhattan's rising retail vacancy rate by offering landlords a chance to list their empty storefronts as short-term rentals online.
Value Capture:
The company launched first in the U.K., but has since expanded to France, and most recently New York in the U.S. It makes money by charging between 10 and 30 percent of the rent as a fee. It vets and photographs every space. Companies can rent spaces for as little as a single day, or by the week or month — minimum terms depend on the landlord's preferences.
Currently, Appear Here lists over 10,000 short-term spaces worldwide, with prime retail properties in major cities such as Bath, Birmingham, Cardiff, Edinburgh, Leeds, Liverpool, London, Paris and Manchester. Over 200,000 brands have signed up to the platform. Google, Apple, LVMH and Kanye West, as well as smaller independents and entrepreneurs such as Stylist (magazine), Dollar Shave Club, Away (luggage), Candy Kittens (founded by Made in Chelsea's Jamie Laing), Littlesmith and 26 Grains, have all used Appear Here to launch their ideas.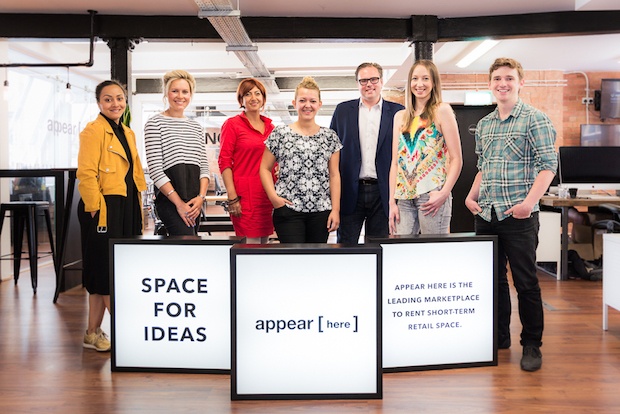 Appear Here is well-timed to capitalize on the problems currently facing the retail sector:
1. Affordability and Flexibility
Appear Here brings innovative marketplace by providing affordability and flexibility for landlords and brands, in comparison to traditional long-term leases. With ecommerce presenting a challenge to traditional retail and brick-and-mortar, Appear Here gives retailers an alternate way to get their products in front of consumers via short-term leases to keep the modern millennial buyer interested. More than just that, landlords that are looking to keep space occupied use Appear Here to bring foot traffic back to retail streets and premium mall spaces through bookings of exciting pop-up shops.
"Every landlord would rather have a long-term tenant but the reality is it doesn't exist anymore," said the company's founder Ross Bailey. As The Real Deal reported in December, landlords have generally seen pop-up stores as a stop-gap measure, but some are making short-term leases a viable business. "It's an opportunity for the landlord to capture some short-term cash," said Jason Fein, a partner at ABS Partners Real Estate TRData LogoTINY told TRD at the time. And while they continue to look for a long-term tenant, "things always show better when they're alive,"
2. Global Network
Appear Here has evolved the way the world rents space by giving brands access to a global network of thousands of space and allowing them to search and book entirely online. By breaking down the cost of renting space, brands that previously could have never opened a store in the top retail cities in the world can afford to rent for a shorter amount of time. This offers brands the ability for low-risk market testing in physical stores, geographic locations, and to capture the seasonal sales of temporary spaces. Over 100,000 brands have signed up on the platform looking for space and Appear Here has already booked 4,000 shops in the last 12 months in London alone.
3.  Unique Experience
Bailey is certainly not the first person to flag the importance of bringing an experiential element to stores, and he won't be the last. Still, he strongly believes that providing a unique experience is a brand's best advantage in the age of e-commerce.
By taking on a flexible lease and looking at the store in a more temporary way — a model Bailey dubs "pay-as-you-go retail" — the brand isn't tied down to anything and can keep things fresh."That's what's great about a flexible lease — you show up, keep the crowd engaged, and you're gone before the crowd gets bored."
4. Powerful and clear benefits for three key groups in the commercial/retail real estate space
● LANDLORDS: like short-term rentals and co-working spaces, short-duration "micro-leases" offered by Appear Here often command higher premiums, resulting in higher yields with incredible flexibility, low tenant acquisition costs, a more diverse tenant base, pre-vetted brands, and increased foot traffic from nontraditional customer channels. Unoccupied leasable space — rather than sitting idle, vacant, and pushing up opportunity costs by the hour — becomes strategic and helps landlords pick up the money and the value left sitting on the table in front of them.
● BRANDS: makers, startups, e-brand omnichannel entrants, and established players enter locations for as long as their heart desires, their buzzworthy brand campaign lasts, or as their financial resources permit — while trying desirable neighborhoods like Williamsburg or Brooklyn Heights, Soho or the West Village.
● BROKERS: where even the best senior brokers and tenant reps are limited to seeing or securing properties within their firm's network or where long-term leases are the rule, Appear Here injects a new network/inventory of assets, and flexibility of terms, to better service not only brands but also landlords with underutilized vacant retail space.
What's Next?
With the international expansion, they continue to build deep relationships in the top retail cities around the world. They've got offices in London, Paris and New York, and now they're looking forward to launching more tools and opening up new locations for  the growing community to take their ideas to the next level