Adios, Therese – the death of the retail travel agent
Brick-and mortar travel agents are dead. How did the decline happen in one of the first industries to be digitalized?
In a world where personal travel can be fully planned online, traditional physical travel agencies have long ago become obsolete: in 2013 in the United States, there were 13,000 retail travel locations in the US,  down ~60% vs. the mid-1990s number of 34,000 [1]. In fact, even that number seems high. Ever since I moved to the US in August 2014 for school, I can't remember ever having passed a physical retail travel location.
How do we explain this rapid change?
The obvious reason for this is simply the availability of personal travel booking online.
Travel as an industry digitalized long before many other industries: airlines started developing computer reservation systems for their own use as early as 1946. In 1976 United started offering its Apollo system to travel agents, with other airlines offering similar systems in the following years and decades [2]. This placed travel agents as the intermediary and integrator: allowing customers to perform reservations, and grouping reservations for travel, hotels, activities and so forth to provide the customer with a full package for their travel. Today, travelers have almost options of all kinds to organize their personal or professional travel online.
The DIY approach
Often times today, leisure travelers themselves have taken on the work of the travel agent. As a cost-sensitive student, this has been my method of choice. I'll look into flights on flight comparators and the websites of low-cost airlines not included in search results, check train rates, look for hotels on booking.com and hotels.com and also check if Airbnb would maybe be better…
Online travel agents
As illustrated by the example above, planning even a simple weekend trip requires a large number of steps and can become a highly complex endeavor. Additionally, studies of human responses to large choices have shown that people feel overwhelmed and unhappy in the presence of too many options [3]. For those reasons, there is a large opportunity around providing additional service online. Today, many online travel agents offer both the possibility to purchase packages or individual components online, and it can be difficult to identify which of those dominates, but it appears likely that there will be a move towards more service and one-click buying [4]. The worldwide online travel market is dominated by a few larger players, but market shares for even the largest players are single digit (see figure below). The way that value is captured in that industry has remained mostly similar to traditional offline models, and mostly driven by commissions.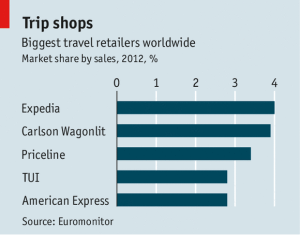 Business travel (about 30% of the US market in 2014, [5]) is a bit of a special case and follows a more traditional model mostly managed by specialized travel firms such as Carlson Wagonlit [4].
Different views
Not everyone agrees that in-person contact for travel is fully obsolete. Some bloggers argue that current online solutions offer a poor substitute to human interaction to shape the deeply personal experience of travel [6]. Not all emerging markets have been penetrated to the same extent by online presence, which means booking a quality trip to Jordan via online resources only (flight excluded) could be difficult. And until last year, my dad still got his tickets from Beirut to Paris at his friend's travel agency in Beirut (now I act as executive assistant and buy online for him).  In Switzerland, offline retail travel still makes up 70% of travel revenue [7] and the upscale travel agent Kuoni seemed very busy every time I passed it.
What's next?
Comparing different markets, I am not certain they will all follow the same trajectory: beyond technological advancement and infrastructure, there are some very real cultural differences between countries. But still, I can't imagine that most of the world would not converge to an experience of travel that is mostly digital. To me, the online information and services still are not at the level of talking to a travel professional or you travel savvy friend about what you want, and have them offer different options and do it for you level – neither in terms of quality nor ease. This seems to me the ultimate end-goal for digital travel services. I also cannot imagine established players like Expedia launching a truly innovative service of that nature. They will probably be the next one to get disrupted.
---
[1] http://www.cnn.com/2013/10/03/travel/travel-agent-survival/
[2] https://www.cbtravel.com/blog/2013/11/airline-reservation-systems-history-101/
[3] http://www.nytimes.com/2010/02/27/your-money/27shortcuts.html?_r=0
[4] http://www.economist.com/news/business/21604598-market-booking-travel-online-rapidly-consolidating-sun-sea-and-surfing
[5] http://marketrealist.com/2014/12/leisure-business-travel-share-importance-us-travel-expenditure/
[6] http://www.tnooz.com/article/not-dead-yet-why-the-old-school-travel-agent-isnt-going-anywhere/